The world is very small and right now is when we feel it the most. Business has become global in the truest sense imaginable. Can't find the right person for the job at your location? Don't worry, the world is your oyster, or in this case, your HR.
To find the right talent, there is a growing trend of sourcing resources from the niche markets. There are two ways this works: One, you get a freelancer to work on your projects/ your website. Two, you get managed resources that work of an office, are not on your payroll but work as your employees.
Both possibilities have their advantages and drawbacks and it depends upon what you need to determine which is better for you. Having said that, managed resources almost always have an upper hand majorly because of the fact that there is a sense of credibility, dependability and accountability. Before making a decision, you need to think about the intricacies involved and determine the goals that you want to achieve.
Mentioned below are a few pointers that you should consider when making this important decision: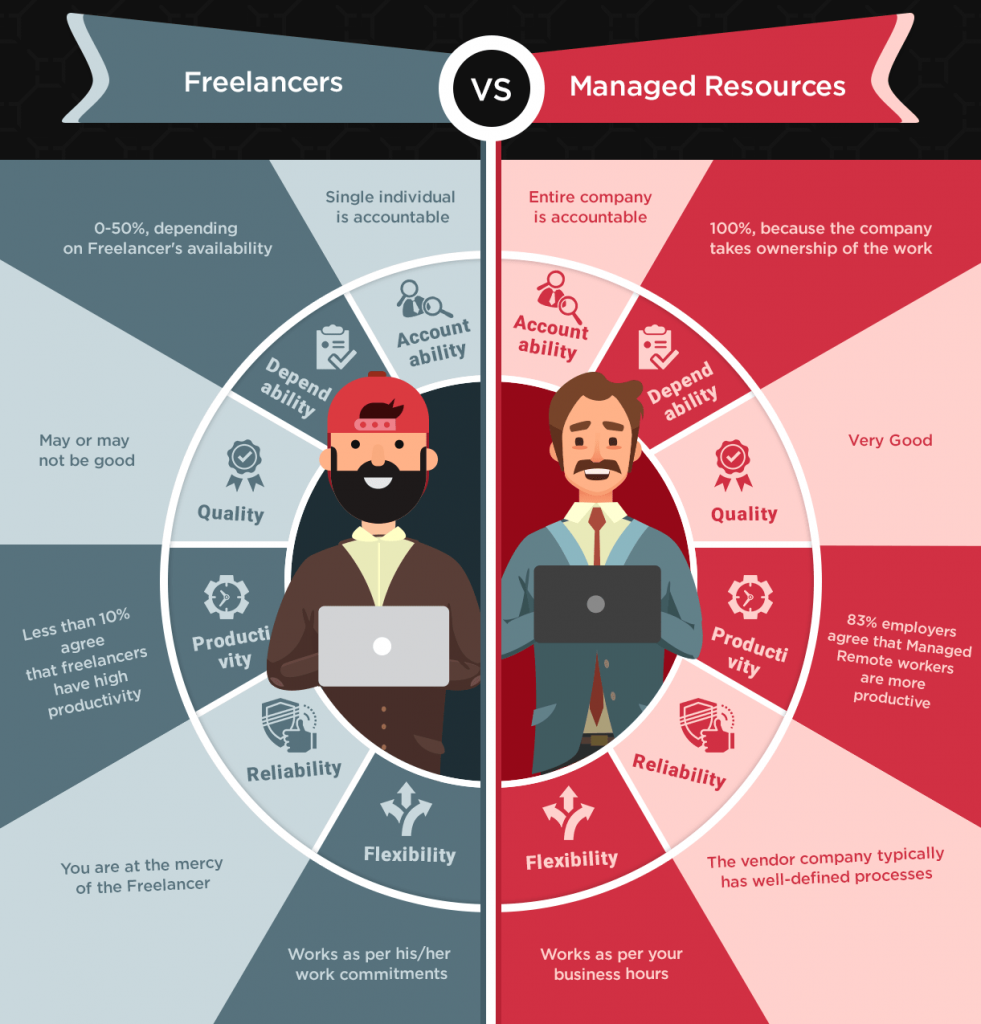 1. Flexibility
With managed resources, you have the flexibility to choose from a pool of talented individuals, before making the final choice of hiring a professional. You can test out their skills and choose the professional that best suits your requirements. Based on the requirements viz. a viz. the number of years of expertise, the skill-sets and the shift timings, managed resources offer an ease of hiring a professional to the clients. This, on the other hand would not be possible in the case of freelancers where you must adhere and plan according to the freelancer's accessibility and work predilections.
Additionally, if under any unforseen circumstances, a managed resource has to leave the work mid way, the company takes the responsibility and provides you with another professional with same expertise, experience and dedication level to ensure you meet your deadline.
2.Dedicated and Manageable Professionals:
Managed resources are usually led by Key Account Managers or project managers that have the foresight to plan and execute your project as their own. Also, just having someone to report to makes the resource working on the project accountable, and accountability goes a long way in ensuring the success of your project.
Not only does an individual freelancer have no senior authority to report to, if you need them to work on something urgently, you don't have a backup person that you can contact. Also an individual freelancer operates for more than one client concurrently which means that the dedication level or time that a freelancer can devote to a particular project ot client reduces as their number of projects go up. Thus, notwithstanding the competence, time delays and dedicated availability are a major issue while working with a freelancer. This is one of the major factors that distinguishes managed resources from the freelancers.
The manageability of professionals halves the efforts that you need to put in as a client. The Account manager that is provided to you free of cost is someone that can plan and execute the project after an initial guideline provided by you. Such a well-synced progress workflow always meets the deadlines.
3. Communication:
Issue & project tracking is paid crucial attention to when you have managed resources. Communication is considered as one of the most vital segments of any web or app development process. To track the progress of the developer and of the project, communication is key. So, a dedicated managed resource will keep you posted with the real-time updates on the project, furnishing timely solutions to client's requirements. At Resourcifi, we provide the client with the on-going project updates using an issue & project tracking software called JIRA. Additionally, the client is free to use any of his own tracking tools for managing the on-going project. Whereas, on the other side, a freelancer might have inadequate resources to keep the client updated about the project's progress. Additionally, if the freelancer is working remotely for the client, the communication becomes a massive barrier unless managed properly.
4. Cost-effectiveness:
Managed resources prove to be the more cost-effective solutions to the clients in the longer run.
Hiring a freelancer always appears to be a cheaper deal as compared to hiring a professional from a company. However, lets try and see the bigger picture here: From a long term perspective, if you have your work finished in the timeframe that you originally decided and with perfection commitment and maintenance and support, managed resources will prove to be a far cheaper deal than any freelancers. You save on time lost in communication, or should I say miscommunication and just the general back and forth of the problems, you get maintenance and support and you can always reach out to them for help. Eventually, you end up losing a lot of time and money working with a freelancer as compared to a professional as managed resources bring a lot more to the table for a client than any freelancer.
5.Confidentiality Concerns:
Confidentiality of the project details is one of the major issues for any client while looking for a professional. It incorporates myriad measures such as shielding concepts, critical information, occupational secrets, and most significantly their confidence. Not only do companies offering managed resources have strict NDA's in place, they will also make sure that a dedicated resource provided by them is more dependable as they care about our contacts, reputation and reliable association with clients, because they have a business to run and would most certainly do it ethically.
We are not saying that freelancers are a bad choice or that they are not ethical. What we are basically saying is that as compared to freelancers, managed resources give you a lot more control and authority over your project. They meet their deadlines, which eventually means that you meet yours, they are available at your time, which means no late night/early morning wake up calls to be able to talk to your resource and they provide you worklogs, which means you get to see exactly how long each task took and if your money is being properly utilised. They are just like any other employee that you have, just that you don't have to pay for their systems, utilities, space or administration. Win Win situation, right?