The fact is that information on mobile apps is relatively easier to capture and their considerably lower price has translated mobile app development into a growing industry. Today, there are a number of mobile applications storming the app stores every year.
The culmination is simple. If you are aiming for success, mobile app development is something that should concern you. A well-built app is bound to bring you traffic and ROI. This is a great decade for mobile applications as hiring skilled mobile app developers has become easy and affordable.
A mobile application is essentially an extension of your business, developed to boost your profits. The question is where to start and how much to spend?
Here, we give you a general cost estimate of mobile application development, for you to gauge and get an estimate of how much would it cost to build an app for your business.
Cost Estimate For Mobile Application Development
Choice of Functionalities in Mobile App Development
Primarily apps can be broken down into four major groups based on the amount of work involved in developing them. Generally, gaming apps and enterprise apps tend to cost more than simple and API apps.
This is because enterprise and gaming mobile applications include a lot of features which in turn increases the complexities and the time required for building the apps.
Simple Apps – $1,000 to $20,000
API Apps – $35,000 to $70,000
Enterprise Apps – $60,000- $1,00,000
Gaming Apps – $1,00,000- $2,50,000
Cost of Features in Mobile App Development
The figures provided below are an elementary cost estimate for mobile application development. Mobile app development prices vary according to the features that your application requires.
They are always liable to change depending upon the scalability of the project. These are of course price range associated with getting an app built from a dev shop.
The cost estimate may vary if you opt to get your mobile app developed by a freelancer, or rather an offshore managed resource. However, make it a point to never compensate for the app quality.
Email Login – $1000- $1500
Social Login – $1500- $2500
Use of Location Data – $5000- $8000
Social media Integration – $1000- $2000
In-App Purchases – $1000- $3000
Payments – $1000- $3000
User Profile – $2000- $3000
Sync Across Devices – $1000- $3000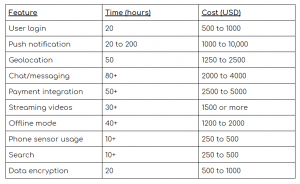 Choice of Platform in Mobile App Development
There is no perfect platform that can be used for every project. However, we recommend React Native over other prospects.
We believe that native is the best we can bring to our customers, in terms of performance, in terms of security and all of that. Why?
Cross-Platform Compatibility 
Most of the React Native APIs are cross-platform. Because of this, each component works for Android as well as iOS. Today, it is no longer difficult to hire iOS developer or hire Android developer to get your mobile development started.
With react native, you can essentially develop a complete application without actually having to write platform-specific codes.
Shorter Development Cycles 
With react native, the entire cycle of development becomes short and sweet. Also, there is a huge community of developers who support react. The framework has plenty of components available for use.
Finding a react native developer is no longer a daunting task.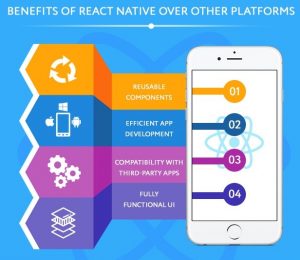 Hiring Costs in Mobile App Development
Finding an app developer isn't that daunting these days, it's finding just the right one for your business that can be tricky. The answer really lies with who you want to partner with.
Price is not the best indicator of quality. You have the following options for development work to figure out the cost breakdown for your mobile app development:
Freelancing
Technical Co-founder
Dev Shops
Operating System Choices in Mobile App Development
Developing an app of any kind is a very elaborate and daunting process. Major decisions like operating system choices have an impact on project cost and timelines.
You can choose to build your mobile app on one of the following platforms and accordingly figure out the cost estimate for mobile application development
iOS
Android
Windows
Designing Costs in Mobile App Development
With over a million different apps in the market, the competition is fierce. What an app looks like is the first aspect people notice about it – even before they download it, and certainly before they test it out and see how it functions.
You can figure out how much it costs to make an app for your business by breaking down the designing costs that vary based on the designing types:
Visual Design – $2000+
Wireframes – $1500-$15,000
UX Design – $2000-$15,000
Games – $100,000-$250,000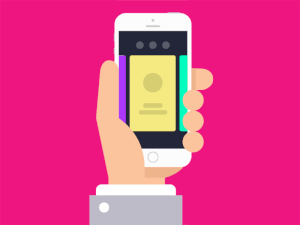 Marketing Costs in Mobile App Development
Marketing is the most under-rated and commonly forgotten part of the project. It is, therefore, significant to set aside a budget for marketing to test various tactics, and finding the most lucrative and optimum marketing option.
Here are a few ways to market your app.
To Sum Up the cost estimate for mobile application development, you need to prepare a detailed mobile app development cost breakdown in order to analyze your expectations and offer a reference point for both you and your investors.
Of course, you could have all the services provided to you at as low as $1000, but be cautious of the quality that comes with it.
Think less about the cost but more about what approach will bring in the all-out ROI before pulling out your checkbook. For a detailed cost breakdown, you can check out our guide on How Much Does it Cost to Develop an App?