Do you guys use tinder? I'm sure that everyone at some point in time has explored the phenomenal mobile application, and went on dates.
Who knows, maybe your tinder dates, at a later stage, became your life partners? Just like when you swipe right on a tinder profile, there are a couple of things that you have to consider in order to filter your results and choose the most compatible option. Right?
Similarly, when we talk about opting for the right offshore software development team, there are a handful of things that you need to do from your end.
I'm sure you don't want to end up in a situation where you are targeting apples, and offshoring agencies end up giving you lemons!
Today, there are a number of offshore development teams out there, but then, how do you go to the right shop? How do you choose the best offshore software team?
As an entrepreneur or a startup, you need to make sure that you have the answers to 5 essential questions when hiring developers or a dedicated software development team.
Read more – The Next Big Solution for Start-Ups – Offshore Staff Augmentation!
5 Questions to Ask Your Offshore Software Development Agency
Prior Work, Case Studies and their Experience!
Since technology outsourcing is at its peak, there are a lot of IT staff augmentation companies across the globe. So then, how do you decide which one is the best?
Yes, case studies, their experience, and the company's prior work is one way of finding out how successful and quality specific they are.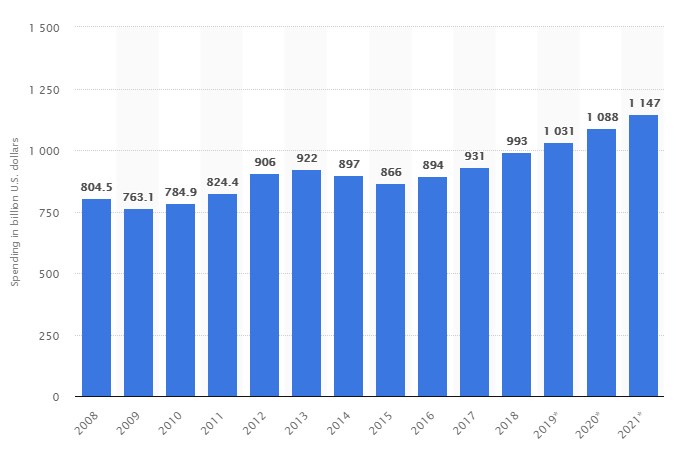 Source – Information technology (IT) services spending forecast worldwide from 2008 to 2021 (in billion U.S. dollars)
Today, before hiring an offshore development team, it is necessary to examine the outsourcing company's Prior Work, Case studies, and experience.
When you carefully consider references and client testimonials, you get a broader picture of how the company has been performing, and if their previous clients are happy with their work.
If developers or the concerned offshoring company fail to provide you with these basics, you might want to reconsider hiring a dedicated software development team from them.
You need to understand that any company would take immense pride in showcasing their work and portfolio.
Make sure you do your bit, look for reviews and ratings of the app that the offshoring company has developed. Connecting with some of their previous clients could be a great idea, and if they are of the same industry, nothing can be better!
What are the Prices?
One of the primary reasons that IT outsourcing witnessed a boom in the past decade is because of its cost-effectiveness! Believe it or not, there is a considerable difference in wages of the western/developed countries and developing countries.
The development work that is done in developed countries costs a fortune, whereas the same job, with probably better quality, can be obtained at much cheaper rates when outsourced.
It is imperative to know and understand the cost breakage that the offshoring company shares with you. Trust me. You don't want to get mugged by anyone!
As seen in the infographic above, IT outsourcing is so cost-effective that you can actually save about 60% of your spending. For anyone looking to hire a development team, the cost is an essential aspect.
As a piece of advice, when hiring ReactJS developers or RPA developer, don't opt for the most expensive team, instead, look for the best quality-price ratio. Be sure of what kind of staffing model are you looking for? What are your requirements? Do you need this team on an hourly basis? Or do you need this team on a monthly basis?
Check their pricing, and do not hesitate to ask for a quotation bluntly. Don't blindly fall for the prices that the offshore team quotes to you. Do your research, find out what is the usual pricing of such resources in the region, and then move forward. However, DON'T sacrifice quality just to save some bucks!
How, and How Often Can You Communicate?
Communication is the key! Communicating with your dedicated software teams twice in a week is never going to be enough! Ever!
When hiring an offshore development team, make sure that you know in advance of the tools that they use for communication, and if they would be okay with communicating using the tools that you want to. Being engaged with your dedicated software development team on a regular basis is always a good idea.
Another vital aspect is project management! Offshore teams generally use project management tools for smooth and efficient functioning.
If the offshoring company does not use one, maybe that's a red flag right there! Working on straight and straightforward projects also require some sort of project management in order to smoothen functionality.
I understand, communicating on a daily basis is a daunting and an inconvenient task, but by doing so, entrepreneurs and startups can essentially correct mistakes in early stages, preventing their escalation.
The Process of Working With A Client
At one point in time, one of the clients came to us asking about our process of working with a client. It is a great question to ask when you decide to work with dedicated software teams.
We, as one of the top IT staff augmentation companies, prepared a case study, where we described our everyday work routine, giving specifics as to how we helped and contributed to one of our previous client's projects.
Our case study facilitated information about the tenure of the project, the number of resources who worked on the project, their contributions, roles and responsibilities, our communication methods, and the platforms we used for project management.
Moreover, we also talked about the challenges we faced and how we overcame them, our learning, and our plans to support the client in the future.
Sharing our experience in the form of a case study was very crucial as it gave our prospect more in-depth and better insight into how we actually operate and solve problems.
If a dedicated software development team is not in a situation to give you this sort of an in-depth understanding of their functionality, straight away swipe left!
Trial Periods Are a Must
What do you interpret when someone asks you to take up a trial period? That too for free? I think, whenever someone is okay with offering a trial period, they do so because they are extremely confident of their resources, and they are certain that they can deliver!
These trials and tests are great tools for witnessing the team's technical capabilities of producing codes and designs. Moreover, It is also an opportunity for you as a startup or an entrepreneur to observe how the offshore company operates.
However, when availing this service, make sure that the tenure of trial feels like the actually paid tenure. Always be ahead in setting up the required tools for communication and project management. Trust me, trial periods are an excellent method of testing your software agency.
Ask questions to your hired dedicated software development teams, Get on your system, video conference with your offshore team. I'm not sure if this looks like a waste of time but, it's beneficial for you.
By doing this, you are getting rid of all undefined variables. Reiterating the point mentioned above, Only swipe right if your offshore agency is okay with facilitating a trial period for you!
Good Read: Setting Up Your Offshore Development Team Is Easier than You Think
Choosing Your Offshore Software Development Agency: The Conclusion
Ask for prices, but don't settle for the cheapest option. Makes sure you don't prioritize money over quality! Move ahead with establishing proper communication channels.
Be regular with video conferencing. Again, the video conferencing doesn't need to be for hours. It can be for ten minutes, but make sure you do it every day! Do your research! Ask for client testimonials and case studies!
Make the most of the trial period! If you find an offshoring agency that gives you all the essentials, as mentioned above, SWIPE RIGHT! Good luck!
Read More: 8 Constructive ways For Startups to Deal with their Business Challenges!