The world population has diverted its attention towards the need for fitness app development due to rising health concerns. Are you eager to know how to build a fitness app? Well, this is the ultimate guide to fitness app development which will help you create a fitness app of your own.
As the saying goes, "Health is wealth," Fitness app development has made it to the top of the priority list of leading software companies. Development companies have realized the persistent need to create a fitness app due to the depleting health conditions.
People are now updating their lifestyle choices and are opting for a healthier way and this has increased the demand for fitness app development. It has become crucial to create a fitness app that can ensure proactive health tracking. Evolving from traditional gym memberships and paper-based workout plans to the cutting-edge world of fitness apps.
The complete healthcare sector is undergoing a speedy digital transformation with fitness app development. Major healthcare businesses are transforming their physical business model into high-tech fitness and healthcare apps. Development companies are in demand for creating fitness apps which can automate and scale the reach of healthcare.
Since the pandemic, the healthcare industry has grown immensely and many businesses have started investing in fitness app development. A report by Market Research Future states that by 2030, the market size will exhibit a compound annual growth rate (CAGR) of 27.80%. 
Let's embark on a journey through the world of fitness app development through this comprehensive guide. Whether you are an aspiring entrepreneur looking to know how to create a fitness app or a fitness enthusiast interested in understanding the inner workings of these technological marvels, you have stumbled across the right blog.
Let's dig deeper to explore the various types of fitness app development, each designed to cater to specific aspects of healthcare. Moreover from activity tracking and diet management to comprehensive workout plans, these apps offer diverse features to address the unique needs of their users. 
Types of Fitness Apps – Fitness App Development
Fitness app development includes various types of app creation. Understanding these categories is crucial when you decide to create a fitness app. The three primary types of fitness apps are: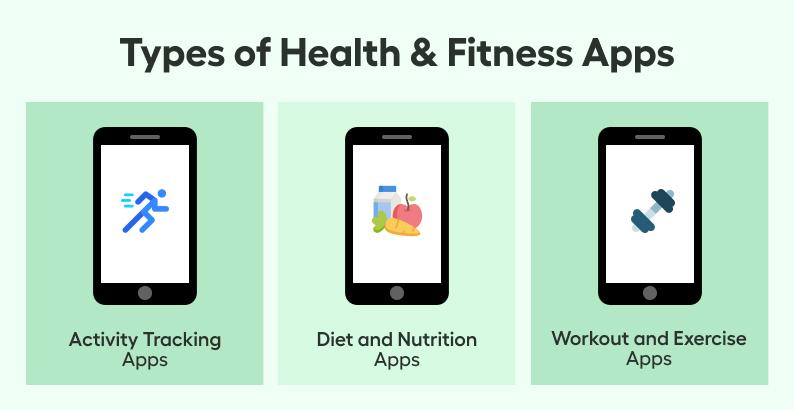 1. Activity Tracking Apps
Majorly integrated with the wearables, fitness app development of activity tracking apps fulfills the purpose of collecting user data on all the ongoing activities. Such data can include activities like step count, running distance, and sleep quality estimation. The need to create a fitness app for activity tracking arises for non-gym goers. 
People who just want to track their daily activities and are not involved in rigorous fitness activities need such fitness app development. Although the activity-tracking apps are not strictly limited to wearable technology, they can also gather data through your smartphone. 
One of the recent innovations in these fitness apps includes sleep quality monitoring. Major fitness app development companies have integrated wearables technology to gather sleep data and provide accurate metrics. The smart alarm technology can wake up the users easily by activating during their REM phase.
Read More: Wearable App Development – How to Build A Wearable App?
2. Diet and Nutrition Apps
Fitness app development in the health sector majorly revolves around healthy diet and nutrition. Diet and nutrition apps track your calorie intake and incorporate your personalized diet charts to monitor your muscle and fat gain or loss. 
Businesses that are targeting people who focus on their diet for healthy lifestyle choices should go for such kind of fitness app development. Also, people with certain health targets and concerns need some liquids at a set interval and these apps can fulfill that requirement as well. 
Besides tracking calorie counts, fitness app development companies are innovating with special diet plans according to user preferences and diet goals. These plans ensure calorie intake keeping in check the burning rate and nutritional goal to attain the optimum body weight.
3. Workout and Exercise Apps 
Physical fitness training is an important part of a healthy lifestyle and businesses are investing more in fitness app development to create workout apps. With features like personal training videos and workout tracking, people are now relying more on these apps.
Workout apps adapt according to the user's workout plan and set a virtual routine of exercises. Users can update their physical data to personalize the app. The app can then enlist a number of exercises based on strength, endurance, and flexibility which can help the users to achieve their fitness goals.
Such apps motivate the user with personalized health recommendations. It can also incorporate home workout sessions and provide accurate data statistics on the physical condition after a workout.
Fitness app development companies have brought major innovations like workout playlist syncing and fitness challenges on social media. People can now share their weekly fitness achievements with their friends and compete with them. Major businesses are outsourcing fitness app development to some of the best companies to leverage their technical expertise and create an effective app. 
How To Build A Fitness App
After exploring all the categories of health and fitness apps, it is important to understand the process of fitness app development. In this section, we will answer the major question, i.e., How to build a fitness app. 
Fitness app development is a complex process that includes several steps. However, before directly taking a step towards fitness app development, it is important to understand the core objective of your business. Without understanding your business you won't be able to create a fitness app that holds a strong value proposition in the market.
Let's dive into the process of fitness app development and understand how it can add value to your business.
Step 1: Choose The Right Target Market 
As discussed earlier, it is important to understand your business process in depth to target the right audience. If the right audience is not set at the beginning of the fitness app development process, it can harm the value proposition of the product.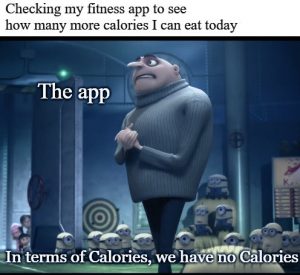 An in-depth research is very important to understand the features and USPs of the fitness apps in the market. Also, ask yourself what user problem will your app solve as this adds value to the product.
Step 2: Prototyping
After complete technical research of the working of the app, the process of fitness app development moves forward to prototyping. Prototyping majorly involves higher technical expertise in UI/UX designing.
The best prototype visually represents your application in an interactive manner before starting with the development part. It should consist of contemporary elements with a simple user interface. 
The prototype should introduce a well-built dashboard with complete data visualization and a decluttered space. This enables the users to comprehend their fitness status through assessing a single screen.
Read More: Top 8 UX Psychology Principles Every Appreneur Should Know
Step 3: Decide the Tech Stack
After the prototype is approved and finalized, the next step in the fitness app development process is deciding the right tech stack according to your prototype. Selecting the best tech stack for your application ensures a strong backbone for your app. 
The best tech stack should include the latest front-end and back-end technology with high compatibility. Also, the tech stack should be able to smoothly process user inputs. It is important to select the right technology for your application as it is the basis of product quality in the future.
Step 4: Development and User Testing
Development and user testing majorly take place in the post-production phase of fitness app development. After the development of the application is completed, it is necessary for the product to go through an intense testing phase to maintain high quality.
Before releasing the product, the application should pass several test cases and be able to meet the ultimate objective of production. It is important to make sure that the application fulfills all regulatory compliance requirements.
Read More: How to Test MVP – 8 Best Strategies
Step 5: Set security measures
Health apps deal with the critical data of an individual user and strict security measures are a must to ensure data privacy. In the process of fitness app development, it should be a standard practice to use less data and provide more data visualizations and reports.
As the users are sharing their personal details and daily workout routines, it is important to create a fitness app that safeguards that kind of data. This helps in establishing trust between the users and the brand.
Step 6: Release
Releasing is the last step after checking all the previous requirements in the fitness app development process. Also, The release should never be abrupt, it should be purely strategic. As the ultimate goal of any brand that invests in fitness app development is to get a good ROI. 
Thus, it is essential to create a marketing launch before actually releasing the product. There should be PR campaigns and a strategic release in a geographically constricted manner.
Fitness App Development Cost
The revenue produced by the market is growing rapidly and soon this industry will contribute heavily to the global economic growth. According to Statista, currently, the fitness app industry produces a revenue of $2.19 billion, and by 2027 the revenue margins will reach $3.41 billion. 
Fitness app development cost varies on various terms as they provide a good ROI. With the increasing prominence of the healthcare industry, the need for high-tech fitness app development is rising day by day. By leveraging innovative revenue models, fitness apps can turn into a profit-making investment.
In-house development costing
The in-house development cost of a minimum viable product (MVP) may cost from $25,000 to $50,000 for basic features. However, if we talk about broader features with AI & ML, the price can increase from $60,000 to $160,000.
Outsourcing cost and benefits
Outsourcing costs for fitness app development can vary according to the project size and the outsourcing location. Moreover, Offshore outsourcing to India can be very beneficial due to the vast talent pool and economic charges. The average hourly rate starts from $25 approx. 
ROI generation through app monetization
While investing in fitness app development, monetization is a major concern for investors. The good news is that monetization works the same for fitness apps just like it works for other apps. You can include in-app purchases or a subscription model for custom diet charts or workout routines. Businesses can even set up an eCommerce platform within the app to sell fitness essentials. Such monetization strategies can add up to the profit margins of the app.
The global population has been struggling with major health concerns and this has been increasing the need for fitness apps that can guide them towards a healthy lifestyle. AI can create custom plans for people to follow and maintain a fit physic. Such needs for fitness require digital evolution in the development industry.
Fitness apps are in major demand for current lifestyle evolution and there is a huge scope for technological innovations. It is high time to hire a fitness app development company that can develop an agile application around your core business competencies.
Best Fitness Mobile App Development Company
Looking for the best fitness app development company that can create a fitness app around your business requirements? Resourcifi is the best option for hiring developers for health and fitness app development.
With an agile tech stack and technical experts, they will guide you through your journey of mobile app development and produce one of the best apps like myfitnesspal. If you are inspired to create fitness apps like myfitnesspal, you should definitely pick Resourcifi's development services.