Major businesses require external expertise for complex operations and outsourcing to India is the most effective business strategy in the Global market. It is evident that outsourcing companies in India have created a strong value proposition in the market due to their innovative approach to quality work.
With a top-quality workforce, Indian outsourcing brands have been out-maneuvering competing countries like China, Mexico, Ireland, and the Philippines. Outsourcing redundant business operations to the experts will enable you to focus on your core competencies and enhance your business efficiency.
The modern era of increasing globalization has introduced the capability of outsourcing to the global industry. A single business comprises various complex operations most of which are repetitive and manual. Such operations can restrict the business from focusing on its core competencies which in turn ceases its growth.
Outsourcing enables businesses to contract out operations to a third-party vendor with the required expertise to overcome challenges. Although it is necessary to build strategies that can smoothen the outsourcing process and enhance its efficiency.
Many offshore brands face challenges when outsourcing to India due to the cultural and time zone differences which hampers the communication between the two parties. The challenges can be overcome with some simple steps and in this blog, we will discuss some of the winning strategies for Indian outsourcing.
Major Challenges In Outsourcing To India
The Indian outsourcing market is huge due to its vast pool of skilled and affordable human resources. It is a fact that outsourcing in India is beneficial but still many industrialists believe that it is more of a challenge due to major cultural differences. In the era of increasing globalization, it is important to adapt to the modern ways of business.
Strategizing through outsourcing challenges can not only enhance productivity but also introduce your business to process sustainability. Here are some major challenges that the global industry is facing while outsourcing to India: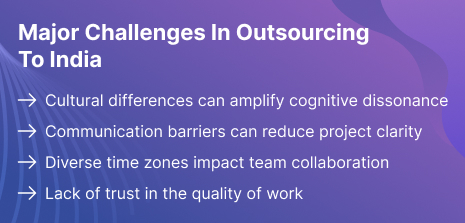 Cultural differences can amplify cognitive dissonance
The Indian approach to work is very diverse in comparison to the Western culture. The diverse ways of problem-solving and interpretation can easily cause miscommunication which is a major problem in outsourcing to India. With such dissonance in the project interpretation and implementation between the teams, the client can certainly feel dissatisfied.
Communication barriers can reduce project clarity
India is a multilingual country where dialects and accents change every 10 kilometers. While collaborating with the Indian team language barrier is a major challenge and thus it can impact the comprehension of the project. Due to a lack of clarity, the project loses its quality.
Diverse time zones impact team collaboration
When speaking of global team collaboration, time zones are a major problem as you can't expect the workforce to work at odd times for communication. Due to such time restrictions, collaboration becomes scarce and the communication flow breaks.
Lack of trust in the quality of work
Lack of trust is a major outsourcing challenge for the global industry as it requires handing over confidential data and complex business tasks. Where data is involved, organizations proceed with utter reluctance and choosing a partner offshore can amplify the trust issues.
Read More: How Much Does it Cost to Develop Custom Software?
Strategies For Overcoming Outsourcing Challenges
Indian outsourcing has many challenges and well-built strategies help you overcome those complexities. Business strategies enable you to find the right partner whom you can trust and who provides quality services. Outsourcing is a huge step and it requires a lot of operational planning for a successful implementation. Here is a list of strategies that can overcome the challenges in Indian outsourcing.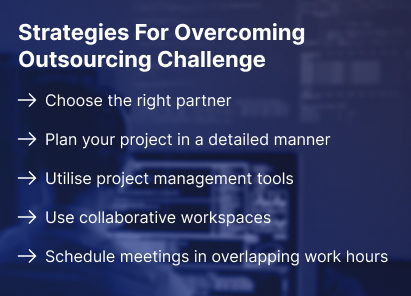 Choosing the right partner
When planning to outsource in India, make sure to enlist the most reputable companies with authentic testimonials. Industry certificates, market reputation, and customer reviews make a company reliable and original. Choosing the right partner will help you build long-term relations on the basis of trust and communication.
It is extremely important to find a partner who can understand your requirements and fulfill them like their own. It is the first step towards outsourcing and the most important one. 
Detailed project plan with clear requirements
A project is the beginning that creates the requirement of outsourcing, hence you should be clear with its objectives and process. For clear communication with the third party, you should be clear about the project firsthand. Outline the objectives of the project that you are planning to outsource.
Create a detailed flow of the project and outline every operation to help the other party understand your requirements thoroughly. Mention the KPIs and the quality assessment process which can be carried out by the vendor beforehand for enhanced quality of work.
Utilize a project management system
Project management system enables seamless visibility of the ongoing operations with real-time data integration. By utilizing technology, you can immerse yourself throughout the operations by monitoring the work assignments and the deadlines. This ensures record-time delivery and a standard flow of operations.
An automated system also ensures clear reports with data visualization and predictive analysis. Establish clear communication by enhancing the visibility of progress.
Use collaborative workspaces
Collaborative workspaces play an important role in strengthening communication. Stay connected with your off-shore team members through automation tools like Google Workspace, Dropbox, Skype, Slack, or Google Chat. Using a virtual shared workspace smoothens the working relationship and strengthens the rapport between the team members.
Communication is a major challenge when outsourcing in India and to bridge that gap, collaborative workspaces are a must. Streamline communication with live collaboration features like video conferencing, screen sharing, comments integration, calendar syncing, and many more.
Set up overlapping working hours
Choosing the right partner who can be available for you 24/7 is a must while outsourcing to India. Although you can reach out to development companies in India, like Resourcifi, Inc which has a vast pool of workforce that is available 24/7 for your needs. 
Schedule team meetings and timelines at overlapping hours in accordance with the different time zones. Regularly plan check-ins and status updates to make sure everyone on the team is informed and collaborating well.
Be extra cautious about data security
Companies are reluctant to outsource due to the exchange of critical information within the process. Concerns about property theft, data breaches, and other cybersecurity threats can jeopardize the business. 
It is important to set strict security protocols within your organization before outsourcing to India. Ensure your partner signs an NDA and is verified in a background check before proceeding with any kind of data sharing. Make sure the collaboration spaces are encrypted and leverage VPN technology for enhanced security.
Various Indian outsourcing companies have their in-house servers for cloud hosting with strict data security measures. Make sure the partner you choose has in-house servers for increased accountability and security.
Read More: Indian Developers – not good. In the US, they're CEOs of Google and Microsoft. Quite the upgrade, isn't it?
Why Outsourcing to India is The Best Choice?
India has a diverse talent pool which can benefit businesses aiming to save costs and enhance process efficiency. The Indian outsourcing companies are equipped with agile technology and an economical workforce. NASSCOM published a study stating that Indian outsourcing companies can save up to 80% of OPEX with the best quality of work. Let's discuss the major benefits of outsourcing to India,
1. Economical labor in India lowers the cost of operations which helps the companies to utilise the funds for other growth purposes. Affordable prices are a major reason that makes India the best outsourcing destination.
2. India is famous for churning out talented individuals who are now leading the global industry. This proves that India has the most skilled workforce with an innovative approach to problem-solving which provides quality work with fewer resources.
3. With the required expertise and resources, Indian companies are capable of delivering projects in record time. Businesses can leverage the shorter development cycles to prepare for the ever-changing market needs.
4. Outsourcing can enable businesses to eliminate redundant operations which ultimately lowers the operation TAT. Businesses can leave certain processes to the experts and focus on their core competencies for increasing productivity.
Outsourcing to India has numerous benefits and it has been evident in the global market. There are some challenges but they are not just limited to India but are inevitable in off-shore outsourcing. Time zone differences and communication gaps can be avoided with simple strategies by adopting modern work culture practices.
Technology plays a major role in eliminating every manual challenge and in establishing a standard flow of data for proactive monitoring. With virtual workspaces and a fully integrated project management system, collaboration becomes effective and smooth. Get record-time project delivery by eliminating manual operations and incorporating agile technology into your operations.
Businesses can benefit immensely if they strategically adopt outsourcing practices. Outsourcing to India is a viable choice for every type of industry as it helps in leveraging agile technology and an economical workforce for higher profits. 
Ready To Outsource In India? – Here Is Your Best Option
The right partner for your requirements can comprehend your outsourcing requirements and create a team of skilled professionals. We at Resourcifi, Inc. have a huge team of industry experts who can easily meet your demands. 
With an agile tech stack, our team of developers ensures quality projects without any delays. Our economical workforce lowers your project costs and caters to your unique business requirements. 
We have a long list of happy customers who trusted us with their projects and got the best results. Want to explore outsourcing in India? Resourcifi is the top outsourcing destination.
Read More: How to Hire Developers in India?