Peter Drucker, known as the father of modern business management, once said:
"Because its purpose is to create a client, the business has two — and only two — functions: marketing and innovation. Marketing and innovation produce results; all the rest are costs."
But, at the same time, marketing can be really expensive especially if you don't keep a close tab on your budget. The discussion on reducing marketing spend is definitely not a new one.
Back in 2018, Unilever reduced the number of ads they ran (marketing budget) by 30%! By decreasing the frequency of their ads by 10% and thus, eliminating chances of diminishing returns, they were able to get better results in lesser costs!
Companies like Blue Apron Holdings took a similar step by reducing its marketing budget by 43%. But unlike Unilever, they failed miserably.
So, the question is: how to reduce marketing costs without hurting your business? In this blog, we will be talking about key methods of reducing marketing costs without severely impacting your business. Let's begin!
Cut Down On Marketing Channels
In this step of how to cut marketing costs, ask yourself this: What marketing channels do you use for your business? 
Let's say that you use an omnichannel approach for marketing. You leverage all the marketing channels for your business – content marketing, email marketing, social media marketing, paid marketing, press releases, and more!

87% of marketers agree that an omnichannel marketing approach is important for their success. But does that mean that you should use every marketing channel there is?
Every business has a different set of audience. If a company is getting decent returns from a channel, say, eMail marketing, that doesn't mean it will work wonders for your business too!
For instance, Couchbase generated $1.5 million in sales pipeline using Account Based Marketing (ABM). This commendable success of Couchbase doesn't mean that ABM will drive similar results for your business as well.
So, how to cut down marketing channels and reduce marketing costs without hurting your business?
Start by identifying a strategy for your marketing in the upcoming quarter. 
The next step is to compile a list of all the marketing channels you have used in the past two quarters. Don't forget to mention the money spent per month and returns gained respectively for each of these channels. 
Use the analyzed data to estimate the average Customer Acquisition Cost and Customer Lifetime Value for all the channels you have listed. The idea of doing this is to identify marketing channels which pass this criterion.
Customer Lifetime Value (CLV)/Customer Acquisition Cost (CAC) = 3
When looking for methods of reducing marketing costs, this will help you isolate the most profitable marketing channels – the lowest cost with maximum returns in your business. 
Eliminate all the marketing channels with CLV to CAC ratio less than 3 (in the past quarter) if you don't expect increased benefits through them, even in the coming months!
Takeaway: Cutting down marketing channels with the least ROIs is one of the most powerful methods of reducing marketing costs without hurting your business.
Focus on Referral & Word-of-mouth Marketing
For those marketers who believe that Referral and Word-of-mouth Marketing are dead, here are two statistics that say otherwise:
Put yourself in the shoes of your clients to realize the true potential of WMM and referral marketing.
Let's say that you heard your entrepreneur friend praising a digital marketing company he was working with. The next time your business needs digital marketing services, you'll ask your friend for that particular digital marketing agency even before searching for it online.

WMM and Referral marketing can serve as supportive pillars for your business when you are looking for methods of reducing marketing costs. The best part of these marketing techniques is they don't require a huge budget! 
How to use WMM and Referral marketing techniques to reduce marketing costs?
If you are good at what you do, all you need is a good relationship with your customers. 
Besides maintaining consistent quality in your services, you need a good customer relationship for WMM and referral marketing to work. 
Things like following up to get feedback, sharing eBooks, blogs, and other educational resources, etc. can serve your business in the long run without huge marketing costs.

Here's how Nike uses Twitter to address the grievances of its users!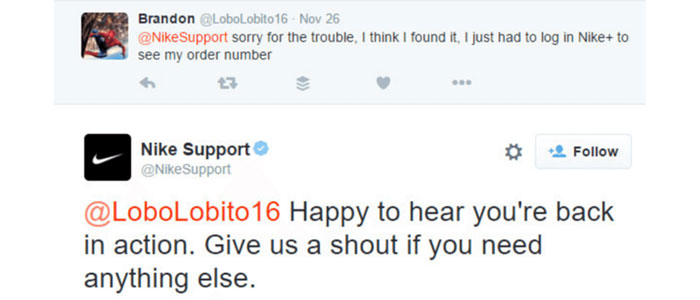 Takeaway: Using WMM and Referral Marketing can drive better results for your business while serving as powerful methods of reducing marketing costs without hurting your business!
Zero-based Budgeting Against Traditional Budgeting
Most CMOs follow the golden "8-10% of gross revenue" rule when it comes to the marketing budget. If you are one of them or you base your marketing budget on previous marketing budgets, this point is for you!
So, what is Zero-based Budgeting and how is one of the methods of reducing marketing costs?
ZBB or Zero Based Budgeting is calculated from zero, apart from the initial operating costs. The budget is decided along the way as per the returns of a marketing strategy or channel.
Unilever was one of the first ones to implement zero-based budgeting in their marketing and this is what they said in their financial report.
"ZBB is improving our productivity in brand and marketing investment as we reduce the cost of advertising production and increase investment in media channels. ZBB is also eliminating waste in those areas where we have over-saturated traditional media channels, as well as reducing overheads."
There are many international companies like Unilever that have benefited by implementing Zero Based Budgeting in their marketing. Mondelez International noticed that they were able to prioritize marketing spend across their different brands using ZBB.
So, why use Zero-Based Budgeting to reduce marketing costs in your business?

ZBB helps you to identify nice-to-have marketing channels with comparatively negligible returns you have been using for long.

ZBB is purely performance-based. Your every penny is justified by the performance of a particular marketing channel – tracked audience groups and how frequently you can reach them using it.

It enables you to efficiently allocate your marketing resources. Besides, you can now

identify small as well as large pockets of waste

(of marketing funds) that when put together can amount to a lump sum.
Takeaway: Use Zero-Based Budgeting to efficiently allocate resources, identify pain points, and more to cut marketing costs without hurting your business.
Define the Point of Diminishing Returns
Have you ever heard of the law of diminishing returns?
It basically says that if you increase your investment in a particular channel without changing other parameters, a certain point is reached where the returns will be progressively smaller with increased input. 
This law applies to your marketing budget too and can be one of the most effective methods of reducing marketing costs without impacting your business! So, how can you use the law of diminishing returns to reduce marketing costs without hurting your business?
Let's say that you get 1500 clicks for a $1000 investment in a channel. You decide to invest more in that channel. After a certain amount of investment, you'll see that the return on investment starts decreasing. This is the threshold point where you should stop investing in that particular channel.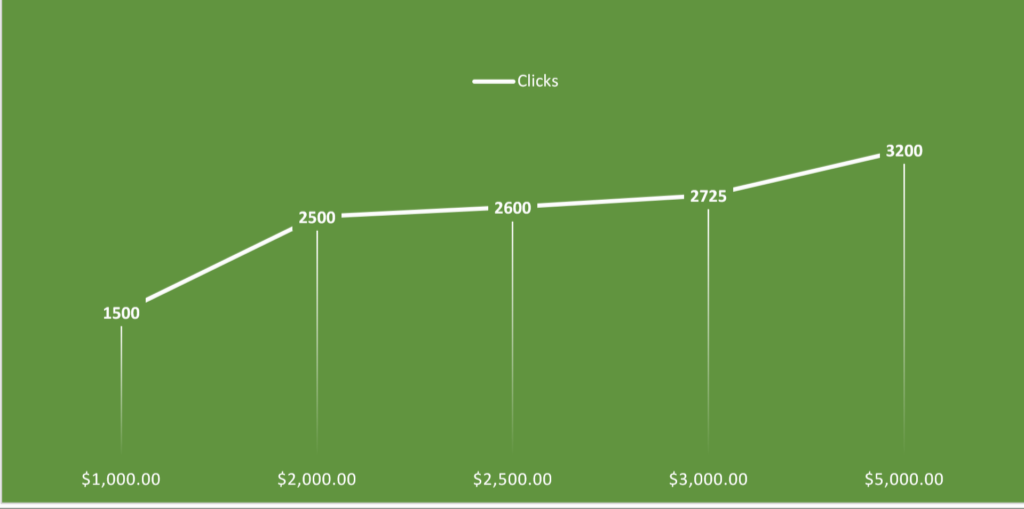 Decide that threshold for every marketing channel you use. Once you reach that point, take the rest of the allocated budget and invest in a marketing segment that hasn't reached its threshold.
Using the law of diminishing returns, the net return on investment will improve while saving you big on your marketing budget.
Takeaway: Knowing exactly when to stop investing in a marketing channel using the law of diminishing returns is one of the effective methods of reducing marketing costs!
Invest Smartly
When looking for how to reduce marketing costs without impacting your business, you have to invest smartly in different marketing segments. One of the ways you can go about it to invest in nurturing leads instead of investing blindly in generating new leads. 
On average, how many leads, generated in your marketing campaigns, are meaningful leads? 20%? 30%? 50%? And how many of them actually convert?
Let's say that you have generated 100 leads through your marketing campaign. 60 of them are meaningful leads – they match your buyer's persona. 10 actually convert – make a sale or sign a contract with you. What do you do with the rest 50 of your leads?
This is where lead nurturing comes as one of the most effective methods of reducing marketing costs without severely hurting your business.
Did you know that lead nurturing results in a

50% increase in meaningful leads at a 33% lesser cost

?

According to a survey conducted by Marketing Sherpa, 73% of generated leads are not ready to commit right away.

Companies have witnessed a whopping 20% increase in sales

with lead nurturing against businesses with it.
Compare the two – Lead Generation and Lead Nurturing. They sure go in hand. But which can produce better outcomes when you are looking for methods of reducing marketing costs without impacting your business?
Let's look again at the example we mentioned earlier. Out of 60 meaningful leads, only 10 of them convert. Let's say that, using lead nurturing, you can convert 30 or even 40 in the long run. You will then reach 40 – 50% conversion rate on the same investment!
Takeaway: Cut the amount of money you spend on generating new leads. Use a part of this savings on nurturing your leads to get better results while reducing your marketing costs!
Switch to a White Label Partner
Marketing keeps changing and even a harmless mistake can cost you money or even worse, customer loyalty. Here's an example for your reference.
Back in 2011, the New York Times sent an email targeting those consumers who recently have unsubscribed. They even provided a good discount to make the offer more compelling. But instead of sending this mail to 300 people who recently unsubscribed, their team accidentally sent the email to their 8 million subscribers. 
Among the multiple things that happened following this, one hit right at their customer satisfaction & loyalty. The subscribers were infuriated that they weren't getting the same discount as those who unsubscribed.
While I am all up for learning as-you-go model, mistakes like these can hurt your business. Besides, it might not be a good idea when you are looking for methods to reduce marketing costs without hurting your business. But you still can't hire marketing experts in your in-house team. It would only cost you more!
This is where a white-label partner like Resourcifi can be of big help. With a plethora of team communication and collaboration tools available at your fingertips, working with a white-label provider has never been more easier.
Takeaway: With a white-label partner working with you, you can not only reduce marketing costs but can also expect better results for your clients.
Methods of Reducing Marketing Costs: Final Words
These were a few methods of reducing marketing costs without severely impacting your business. Here is a side note when you are searching for how to reduce marketing costs: Always look at marketing as a long-term investment for your business.
Take Content Marketing for example. Content Marketing has the power to drive 4x better ROI than advertising. But you can't expect these results right away! 
When looking at how to reduce marketing costs without severely hurting your business, you can reduce the budget (instead of removing it altogether) allocated for marketing segments that have long-term benefits.
Did I miss anything? Let me know in the comment section below!
Resourcifi is a white label provider of web & app development, digital marketing, and software testing services. Partner with us to reduce service delivery costs and management overheads of your agency. Contact us to know more!