According to a survey, consumers spent $23.9 billion on mobile apps in just the third quarter of 2019. This shows a growth of 23% over a year, which is quite impressive. 
Your customers are spending on mobile apps, but where does your app stand on that list?
Getting your target audience to download your app is difficult. But what comes after is even more challenging – ensuring engagement and increasing mobile app revenue. Here is a stat for you. 25% of people only use an app once, and over 50% of them stop using it.
In a way, increasing your mobile app revenue is a three-step process – 
Getting users to download your app, 

Making sure that they keep using it, and

Successfully selling your services/products to them.
In this blog, I am going to talk about definitive steps that you can take when wondering how to increase mobile app revenue in 2020.
How to Get More Downloads For Your App?
The first step to take when thinking of how to increase mobile app revenue is to get more and more users to download your app. So, how to make your mobile app more visible and increase its downloads?
Remember App Store Optimization (ASO)
ASO definitely is one of the ways that could work when you are thinking of how to increase mobile app revenue by increasing the number of app downloads.
App Store Optimization (ASO) focuses on the first part of increasing your app revenue – getting users to download your app. There are more than 5 million apps in the app stores. ASO improves the discoverability of your app and helps you to reach your audience.
According to a study, browsing in an app store (at 63%) is the top method of discovering new apps, and this is where App Store Optimization (ASO) becomes essential.
App Store Optimization does exactly the same for mobile apps what SEO does for your website – improves its visibility. Multiple apps like Presspad & GuideCenter have experienced three-figure growth in download numbers within a period of 3 months.
Attention to minor details like including keywords in the title & metadata will serve you in the long run. The secondary ranking factors of your apps are the number of downloads and app reviews & ratings.
Consider Influencer Marketing
A study conducted by Influencer Marketing Hub found out that every $1 spent on influencers has an ROI of $5.78. Influencer marketing works for more reasons than you might think and thus, helps you to increase your mobile app revenue.
More than

92% of customers

trust recommendations from people (and more so by influencers) than brands.

Many types of research have proven that influencers can impact the buying decisions of about 60-70% of millennials! 
As such, influencer marketing can not only help you to increase downloads for your app but also will create brand awareness to a great extent, especially for B2C companies.
Here are a few things that can define the success (increase app downloads) of your influencer marketing campaign.
Be mindful of choosing an influencer to work with. Your primary task should be to find an influencer whose followers belong to your target audience.

The right platform for effective influencer marketing depends on the industry of your mobile app and your target audience.
How to Increase Mobile App Engagement?
Customer Acquisition is a costly affair. What will be the entire point of getting users to download your app if they never use it or use it once before abandoning it?
You can not expect a user who has just downloaded your app to buy your products/ subscribe to your services. As such, keeping your users engaged becomes a crucial part of increasing your mobile app revenue. 
In this section, we will be talking about two tried & tested strategies you can use to increase your mobile app revenue.
Strategic Use of Push Notifications
The opening rate of push notifications is around 90%. This simple stat is simple to the power of push notification and how it can help you to increase your mobile app revenue. If that is not enough, here is a case study of Hopper.
Frederic Lalonde, CEO of Hopper, revealed that 90% of the company's revenue comes from push notifications. The company, valued at $780 million, sends over a billion notifications per day to its users.
Strategic use of push notifications can help you to keep your users engaged & drive better conversions. At the same time, unnecessary push notifications can frustrate your users and can even lead to the uninstallation of your app.
Here are a few things you can use push notification for.
Include messages that provide value like exclusive discounts, urgent news, content updates, etc.


Use Geotargeting to send highly personalized push notifications to your users. For instance, bars can send push notifications about happy hours in a user's location. Here's how Ticketmaster uses geotargeting.



Did you know that more than 67.45% of carts are left abandoned?

Sending reminders through push notifications can be a great way to increase conversion rates!


Deep Linking Drives More Engagement
It is basically sending your users deeper into your app as compared to the home screen using URI – Uniform Resource Identifier. Deep Linking in mobile apps is similar to the URLs of sub-web pages on a website.
Have you ever received a curated list of web series from Netflix into your mailbox? If you have, you know that clicking on any of the listed links directly takes you that particular movie/TV series and not on the home screen. This is Deep Linking.
Let's say that you want to send a notification to your user, offering them a discount on their abandoned cart. Which one of these do you think will drive better conversion?

Clicking on push notification takes the user to the payment page where the discount has already been applied to the total card value. The user just has to make the final payment!

You sent a push notification with the coupon code. Clicking on it takes the user to the home screen. They open their cart and apply the coupon, which then takes them to the payment options.
It's definitely going to be the first one, right?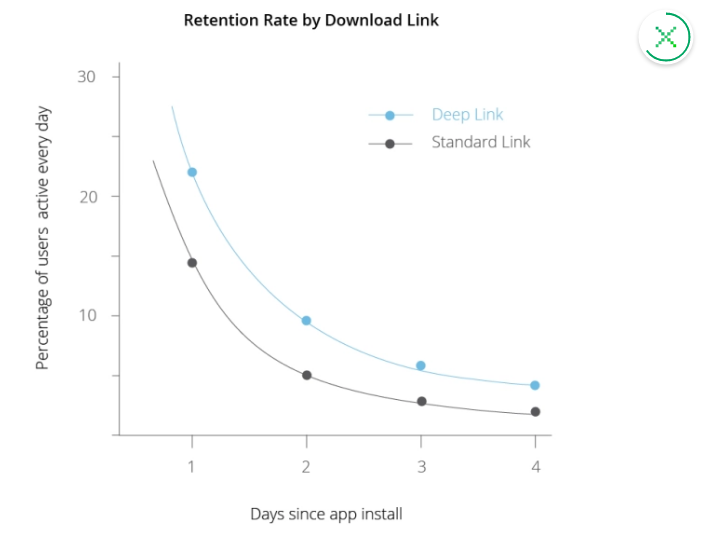 Here's how Deep Linking can help you increase your mobile app revenue.
Drives more conversions through re-targeting and driving specific user actions.

Helps you offer improved user experience by ensuring personalized onboarding. 

Ensures engagement and increases app usage. Stats show that users who were deep-linked visited the app twice as often than users who weren't. 
How to Drive More Conversions Through Your App?
In the above two sections, I have talked about getting more users to download your app and keeping them engaged. Building a loyal audience helps in the branding of your app, but conversions are the one that matters the most.
So, how to drive more conversions to increase your mobile app revenue?
Create a customer loyalty & referral rewards program for your users. Referral programs work, and companies like Dropbox & Uber are a perfect example of this.
Dropbox used a referral rewards program to grow from 100,000 users to 4 million in just 15 months. Did you know that Uber gets a 12x Return On Investment (ROI) on their referral rewards program?
Simplify the app buyer's journey to a minimum. Giving your mobile app users multiple options is good, but giving all of them at the same time can distract your users.

For instance, by just minimizing header elements during the checkout process, eCommerce merchants reported a growth of 6.75 in Revenue Per Visitor (RPV).

Keeping the checkout process free of clutter is good, but overdoing it might decrease the conversion rate of your mobile app.





In another experiment, 61% of merchants with a straightforward checkout button reported an increase in their average RPV. On the other hand, only 31% of merchants with 2 or more checkout buttons witnessed growth in RPV.

Running re-engagement campaigns can help you increase conversions and hence, your mobile app revenue. Re-engagement campaigns customized as per products, purchase stage, and users can drive significant value in terms of app conversions and user engagement for your app. For instance, fashion retailer Trendyol observed a growth of 20% in-app revenue and a 30% increase in the number of app visits with re-engagement campaigns.
Wrapping Up
Increasing your mobile app revenue in 2020, give the competitive market, is a slow process. With the right app development & marketing team by your side, you can definitely look forward to taking your business to the next level. This is where Resourcifi can help.
Resourcifi is an award-winning Staff Augmentation company. We have set up a team of highly-skilled web & mobile app developers, digital marketers, and software testers. You can set up your entire team or hire just a couple of remote expert developers & marketers to assist you with your project.
Contact us to know more about our engagement models today! Want to know how much you can save with us? Use our savings calculator to find out now!