Unlike the traditional way of hiring in-house teams, there are multiple options to get your work down in 2020. New options like software outsourcing, managed services, and staff augmentation have gained popularity over the past decade. But, companies often don't know which one to choose. In this article, I have covered the differences between two of them: Staff Augmentation vs IT Outsourcing.
While Staff Augmentation is primarily a way to extend your in-house team, outsourcing is basically getting your entire project or a major chunk of your project executed by another service provider.
Depending on your project demands, both of them are good options. In this blog of Staff Augmentation vs IT Outsourcing, I have defined them individually and have highlighted their key features for you to make an informed decision.
What is Staff Augmentation?
The focus word of Staff Augmentation is "augment". It basically means to modify or add. Through Staff Augmentation, you basically add dedicated expertise to your in-house team by hiring remote industry experts.
For instance, you have a mobile development project. You hire React Native developers from Resourcifi. With the help of added industry expertise of our developers, you deliver a cutting-edge mobile app to your clients.
Having said that, you can also set up your entire team of remote mobile & web app developers with us through the Staff Augmentation model.
Key Highlights of Staff Augmentation
In this blog of Staff Augmentation vs IT Outsourcing, what are the key highlights of Staff Augmentation?
You stay in charge of the project execution.
One of the key benefits of the Staff Augmentation model is: you stay in charge. You or your dedicated project manager allocate tasks and decide deadlines to your remote team members.
In other words, you oversee the end-to-end execution of your project.
Flexible Engagement Models: Linear Pricing
You can choose from multiple engagement models.
Staff Augmentation companies like us offer flexible engagement models to help you benefit from top-level expertise within your budget.
For instance, you can hire developers full-time, part-time, or on an hourly basis at Resourcifi.
Bringing in dedicated niche-experts to your in-house team is not a viable option for two obvious reasons.
Unless you are a dedicated development agency, you won't need dedicated developers throughout the year.
It takes a lot of time and money to find & hire dedicated developers.
Through Staff Augmentation, you can hire dedicated developers for your project in no time.
We assess your requirements.
We share the work portfolios of our developers.
You interview them to choose the perfect fit.
The development phase begins.
It is as easy as shopping for something online. You choose technology, you choose the engagement mode and bam! Now, a dedicated technology expert is working on your project.
Technology is rapidly changing. In the next few months, you will feel the need to increase or decrease your time size.What would you do?
One of the key highlights of Staff Augmentation is the demand for team flexibility.
Staff Augmentation offers team flexibility. It allows you to easily scale up or down your remote team as per your changing project requirements.
With industry experts working with your in-house team through Staff Augmentation, you get an additional bonus: training.
Your in-house team gets a lot to learn from the experienced remote developer working on your project.
Your company's branding is attached to your product or the quality of your services. Your team's culture defines the quality of your end-product to a great extent.
Staff Augmentation gives you the absolute control of defining the work culture of your team, be it in-house or your remote team.
Staff Augmentation has an array of cost benefits.
With zero administration or infrastructure costs, you can save big bucks on your project while ensuring optimum quality.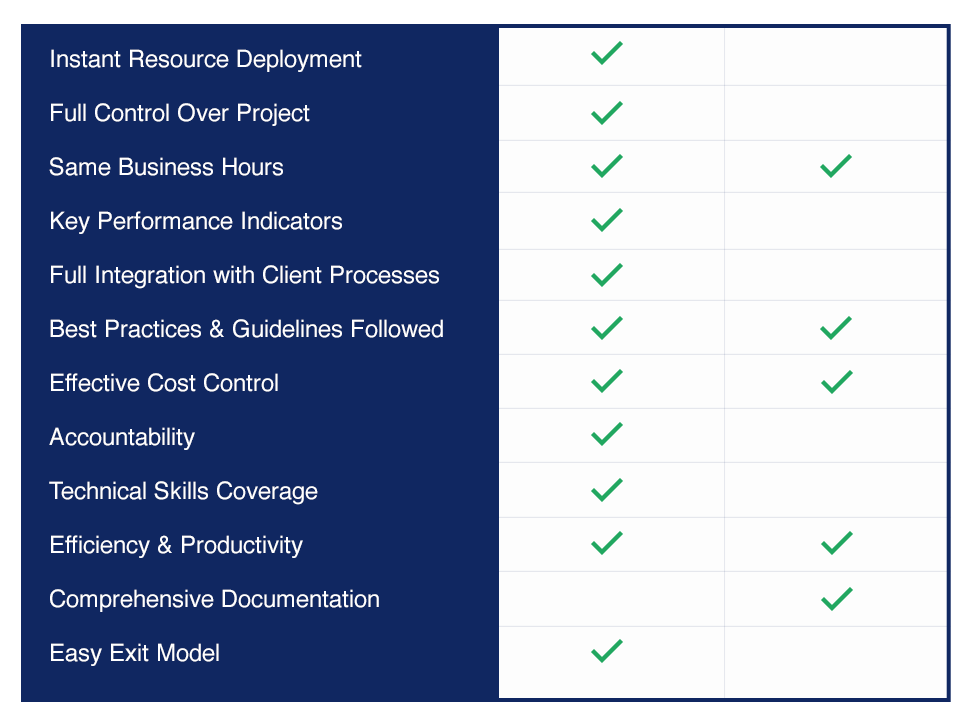 What is IT Outsourcing?
IT Outsourcing is a solution-based model. Instead of adding on expertise to your in-house team, you outsource your entire IT project or a major part of it to a service provider.
Let's say that you have a web app development project. IT outsourcing is giving this project or parts of this project – such as UI Design and UX development to a development company.
Key Highlights of IT Outsourcing
In this blog of Staff Augmentation vs IT Outsourcing, what are the key highlights of IT Outsourcing?
Your project's execution is decided by the provider.
In IT Outsourcing, you, as a client, definitely decide the deadline for your project. But, the course of execution is decided by your outsourcing partner.
The pricing model of IT Outsourcing is usually a blend of expertise and project milestones.
You can pay as per the hourly rate of expertise deployed on your project. Or you could pay through a fixed pricing model.
Fixed Pricing model includes setting multiple milestones and paying once the milestone is reached.
The fact that the course of project execution and completion in IT Outsourcing is decided by your outsourcing partner comes with a benefit.
You are left with no management responsibility. And since the entire project is executed by your IT outsourcing partner, you get the benefit of shared responsibility on its end-quality.
Since your entire project or a major chunk of your project is executed by a single team in IT Outsourcing, you can expect better team communication and coordination.
The Final Call: Staff Augmentation vs IT Outsourcing
So, which one is the right choice for your company – Staff Augmentation or IT Outsourcing?
It actually depends.
Are you someone who just wants to complete their project, irrespective of the quality?
If yes, you should go with IT outsourcing.
Are you someone who likes to stay in charge of your project? Is your company looking for quality mobile & web app development? Do you want to leverage industry experts for your project without worrying about collateral costs?
Choose Staff Augmentation.
We are a Staff Augmentation company. We have set up a team of top-level mobile & web development experts after years of thorough vetting for our clients.
We have also been awarded as the Best Web Design Companies in US by Best Web Designs in 2020.
Want to know how much you can save by hiring remote resources from Resourcifi? Use our savings calculator to find out now!