With the changing times and the stepping stones touched by digitization, the healthcare industry has attracted widespread popularity in the coming years.

The benefits of healthcare mobile app development are numerous. it helps in monitoring the state of the patient's health and makes the work of medical practitioners and doctors easier as well as streamlined. 
You can think of it more like tools that integrate into consumer health informatics apps to maintain a patient-centered healthcare model for custom mhealth app development. This allows consumers to monitor their medical conditions, personal fitness goals, and other health-related problems.

Through custom healthcare app development, doctors and pharmacists can provide better care while patients get to exercise better control in self-monitoring their treatment. You will be surprised to know the recent trends in the medical device app development industry. 
Healthcare App Development Trends

The global mHealth app development market size was valued at USD 45.7 billion in 2020 and is now expected to grow at a CAGR of 17.6% from 2021 to 2028. The increase in the usage of smartphones and better internet connectivity are among the fundamental key factors that drive the growth of health mobile app development.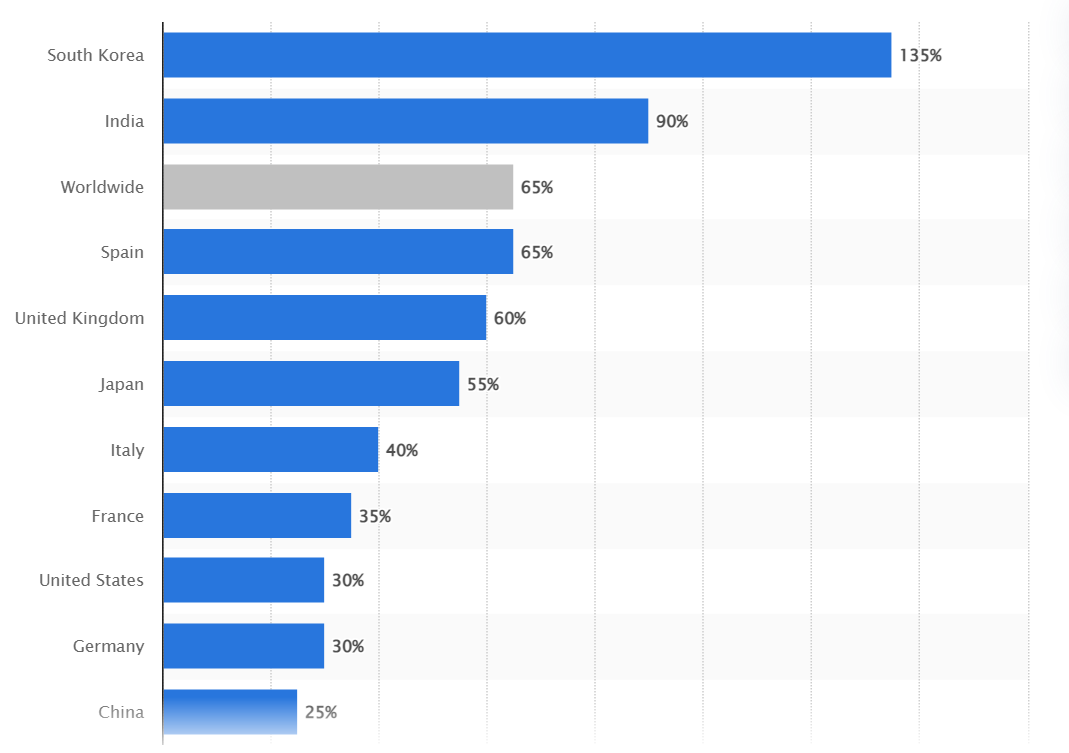 After the outbreak of the COVID-19 pandemic, there has been an increase in the number of healthcare app downloads by 60% worldwide. This creates more opportunities for healthcare mobile app development.
More preventive healthcare and an increase in the funding of mHealth startups provide a major boost to these mobile healthcare apps and mobile medical app developers.
Most of all the breakout of COVID-19 was another factor that led to the popularity of healthcare mobile app development. Here's how:
In the recent healthcare mobile app development trends, the global pandemic brought about consistent innovative efforts. Robots disinfecting cities, and smart devices for monitoring with an increase in concern about health and self-medication. 
AI and machine learning, big data, virtual reality, and chatbots for pharmaceutical companies are no longer a vision of the future. But in recent times, it has become the trend of the present.
There are many successful brands that integrate DTx (digital therapy) tools during COVID-19 to provide mental health services through healthcare mobile app development.
Healthcare mobile app development has become a part of clinical decision-making and analytics. Moreover, these apps provide data on unprecedented insights, treatment variability, patient outcomes, and diagnostics. 
What all of these statistics indicate is that if you even had a speck of doubt then you need to wash it off and know that is high time to develop a healthcare app.
What is A Healthcare App?
While reading this blog, this thought may have crossed your mind a thousand times – what is an app in healthcare?
Well, a professional mHealth niche is highly broad and the purpose of designing a mobile health app will also differ. Besides the conventional uses, the purpose of a healthcare mobile app development could be:
To create a medical app is to simplify our lives by tracking health data.

Gain access to remote assistance with 24/7 access to doctors.

Share tips on improving our health, therapy, and mental health assistance.
Types of Mobile Health App Development

With the advent of professional healthcare app development services, there are many emerging types of healthcare mobile app development solutions. Above all, these healthcare apps have wider applicability to regulate medical devices.
Here are the types of mobile healthcare apps:
Telemedicine
People have now become more open to Telemedicine apps that are fast, convenient, and of high quality. Furthermore, it came to its full potential during the pandemic. Wherein, it was not only beneficial for patients but also for healthcare professionals.
Many medical conferences and measures became exclusively face-to-face as it helps in scheduling appointments with patients and providing online consultations.
Telemedicine apps have effectively reduced "no-shows" by 50% as patients can now receive medical consultations in the comfort of their homes. 
Remote Patient Monitoring
Physicians can now use digital health technology tools such as WHO ICOPE Handbook App developed by the WHO. This app provides assistance to healthcare providers to improve care for older people. This technology provides monitoring of elderly or chronically ill patients at home. Further, this allows patients at high risk to avoid potentially hazardous hospital visits.
Physicians won't need to monitor patients 24/7 as the app will control the patient's condition via wearable devices and alert them. Moreover, the healthcare providers if needed would also provide a faster way for the doctor to interact with the patient.
These types of healthcare mobile app development applications will skyrocket and even more, tools are to be developed to help provide care, and remote patient monitoring will continue to improve.
Apps can help with medication and appointment notifications, and chatbots and other digital devices can support healthy aging. 
Reminder Apps
These apps remind people to take their medicines on time. If not as a standalone app it can be added as a feature in various doctor appointment apps or any other healthcare apps.
Healthy Lifestyle Apps
Apps like fitness apps, brain training apps, self-improvement apps, and many others that help others to make and maintain a healthy lifestyle easily come under this category. Most of these lifestyle apps can be combined with sleek wearable devices such as fitness wristbands and other training equipment.
These apps help in monitoring the physical activities of a person in totality such as the number of steps, amount of calories burned, tracking heart rate and pulse, etc.
Appointment and Billing Apps
Healthcare apps are a mode of direct communication between patients and remote assistance. The increase of these apps has saved many lives as it is instant and interactive. With one click, these appointment healthcare apps help the patient to find the right doctor and set the appointment!
Benefits of Building a Health App
Benefits for Doctors and Staff: 
Faster processing and decision making – After integrating the records of patients, they experience faster processing and consulting from doctors who are quicker with decisions and prescriptions. 
Accurate Diagnosis – Having a better look at the records, an accurate diagnosis comes with timely healthcare delivery, better treatment plans, and effective outcomes. 
Improved communication – With remote access, telehealth application platforms help connect doctors with patients for important consultations and discussions that are both quick for communication and decrease the lapses due to better availability of the doctors. 
Remote Assistance – This allows doctors to monitor patients' health remotely and does not require any physical meet-up by contacting them through video calls, calls, or chat apps. It does not require patients to waste time getting to the hospital or standing in the queue or even leaving their houses.

Effective workload distribution – With the help of mHealth apps, doctors can set up appointments at the most suitable time. They also can manage essential tasks via mobile and web apps.
Brand awareness – With the lack of loyalty due to medical negligence and malpractices, having a mobile healthcare app bridges that gap in trust and boosts the brand awareness of the clinical doctor. As a result, patients and future prospects are more likely to choose the same clinic next time. 
Benefits For Patients

Improved treatment process – Many mHealth apps make communication possible with just one click to arrange video calls and have a better consultation in place. Doctors also have all the tools that are required to examine the patients. They can also prescribe a list of medicines that can control the drug regimen of the app. 
Cost-efficiency – Many of these online appointments cost significantly less than personal appointments.
Online payment – You do not require any cash, your patients can schedule an appointment and make the payment in the app after which it is fast, convenient, and accessible. 
Less stress and burnout – Healthcare software does not require patients to take up mundane administrative tasks by increasing the processing and reliability of the medical system. It has been reported that removing paperwork from hospitals and medical centers has resulted in about 61% increased productivity among doctors and staff.
Better service and equipment management – With the help of modern-equipped technologies, healthcare organizations can now track equipment in real-time and optimize its use accordingly. Healthcare mobile app development helps in tracking all the active on-premise ventilators. They also track other equipment helps in a better track record of the maximum capacity.
How to Build A Healthcare App?
Healthcare mobile app development is not really a straightforward process. You can hire  However, there are many such differences that are prominent from all the other apps that you need to consider. Here's the list of a few quick steps that will help you avoid mistakes.
Identify Problems
The first basic step requires you to answer the fundamental question:
What problem do you want to solve with your app?
It could be that you want to make a fitness app or you want to minimize the cost of medicines. Consider the following factors before you build an app:
Number of competitors

Barriers to entry

Feature list

Target audience
Know Your Target Audience
The target audience is an entire market segmented by many factors such as country, age, education, profession, average income, and many much more such dimensions. 
You must do intensive research on your target user. Firstly, you must decide the region where you might launch your application. There might be differences based on regions such as audience size, needs, and local regulations.
Use these criteria to divide your audience:
Gender

Age

Average income

Place of residence
Secondly, you must ask real users about their feedback about what they want to see in the mHealth app and what additions will make their experience better. This is a great way to get an exact image of what the target audience might expect.
Or you can go the easy way. Some people from your social circle might be using healthcare apps. You can communicate with them directly to collect feedback about their user experience.
Alternatively, you can also ask some people from your social circle about their experience of using such apps.
Do Market Analysis
Creating a healthcare app involves market-intensive research which involves analyzing the trends. You need to know more about your own field, know about the competition, and what changes they bring. Analyze and assess their weak and strong sides are, and how yours can be different.
Study Your Audience
You should try to maintain a professional environment. These apps generally deal with health issues like bulimia, anorexia, and mental disorders. While developing a healthcare app you must keep in mind all these serious issues and with it the sensitivity problems of people.
You can conduct interviews, focus groups, or surveys. All of these methods are a great way to know what the people's needs are, get an edge over the user's problems, and maintain a healthy balance.
Even if you put a lot of work and money into building your health app development, it would be useless if you cannot get your app to your audience. That is why it is important to figure out the target audience for your healthcare mobile app development.
Choose App Type
The healthcare mobile app development type determines a lot of things: the app's database, its functionality, and the app's main goal. But most importantly, you must define the key points to the team like:
The type of app needed

How it functions

The type of problems it solves
Create Design
Proper designing is key to the app's success, the mHealth app design should be simple yet intuitive. Its main goal is to lead the user to their end goal smoothly and easily. Keeping a user-friendly design the app must also have interaction points, so the user doesn't have any problems while using the app. Also, you can reduce the cognitive load of your app to the maximum. That's the best part about it.
Make It HIPAA Compliant
The healthcare topic is quite a sensitive one, and it takes a lot of work for healthcare mobile app development since creating a healthcare application isn't simple. You must also comply with some regulations if you're planning to create a healthcare app.
If you're planning to launch your app in the US, your app must follow all the HIPAA regulations. Also, if you plan to launch it in Europe apps that process personal info must comply with the GDPR. 
Build MVP
By now you must have already ensured to secure your services and pick a healthcare app type wherein the next step should be an MVP development. While building a healthcare app type, the very next step that you should be focusing on is MVP development. You have to start minding the fundamental MVP creation rules so build it fast and make it viable. 
Read this guide on how to hire remote developers for developing the MVP of your healthcare app.
Prioritize the vital features of your app and then go for an MVP development to ensure that you can solve the problem and iterate them constantly. Most importantly, building an MVP gives you a competitive advantage and edge over your competitors as you 
MVP gives you a competitive advantage because you enter the market faster as you start to get more genuine feedback. This actionable feedback from users before starting your healthcare mobile application development product is the right way. 
How to Develop a Health App Features Checklist?
You must already know that healthcare mobile app development requires more or less similar processes when it comes to onboarding, user flow, and functionality. As a result, you get to use ready solutions and test out products. 
Whereas, on the other side, building a health app MVP can be very different since hospital app development also has different types and sub-types. This is why you will have to decide the set of key features that suits your app. 
Here are some of the selective features that many other healthcare apps include:
Registration

Profile screen

Search and filter options

Surveys and forms

Ratings and reviews

Appointment scheduling

Video and voice calls

Online chat

Payment options

Collect Feedback, Update, Repeat
For doctors, the features could include: 
Calendar

Notifications

Patients Health Portfolio

Alerts

Chats

Doctor's profile and records



Key Takeaway:
If you are wondering about how to develop a medical app, this article gives you a brief of the 2 major categorical divisions. In conclusion, these 2 main divisions are professional apps with doctors' involvement and apps for patients with available doctors to choose from. 
Before anything else, a few things have to be considered before your healthcare mobile app development such as ensuring solid data security and interoperability. This is as integration with the particular establishment's systems, medical devices, and tools that the institution currently possesses.
Most importantly, your app must be HIPAA-compliant and should comply with all required legal and privacy rules. Otherwise, you will end up receiving a penalty.
We at Resourcifi are an expert team of web developers who know how to create a health app right from the scratch, that is, from the research stage to a ready-to-launch product!
Have a project in mind? We at Resourcifi are an award-winning Staff Augmentation company. Contact us now and get a cost estimate of your project requirement!