To know how to make an app like Airbnb in 2022, you need to get into the psyche of a traveler and see the world through their eyes to get your business a place amongst all the other 2.9 million hosts on Airbnb worldwide in 2022.
What's the one thing that makes traveling the best experience for everyone? The destination, the journey, the adventures, and whatnot. But what completes the journey is finding a home away from home. To give them the comfort of home, you need to know how to make an app like Airbnb.
Do you agree with me? Well, if you do not, don't worry, this article should convince you otherwise. Building an on-demand app and growing them will boost your revenue in tremendous ways.
What does an excited traveler look for when he is tired from the journey? A comfortable and relaxing staycation that refreshes their spirits. And to know how to make an app like Airbnb, this blog is your mantra! But before anything else, here is your FREE app development cost calculator.
FREE Bonus Material: Your App Dev Cost/Time Calculator
That's how the gig economy has boomed over the years by providing these on-demand services at your doorstep! The rise in the number of services such as delivery, rides, travel, hospitality, etc is a testament to the success of the gig economy. 
Now booking a cozy room for yourself is just a click away! With over billion-dollar valuations in less than five years, apps like Airbnb have become the best in-demand travel booking app.
If you are reading, you're probably as interested in building a business model similar to that of Airbnb. But enough chit-chat, let's get into how to make a site like Airbnb. Here's what you need to know about how to make an app like Airbnb.
Understanding App Workflow to Create an App like Airbnb 
Having changed the way people look at apartments, Airbnb is the new haven for many. However, there is no doubt that Airbnb serves the most competitive and tempting marketplace for property owners and people seeking short-term rental accommodation. 
Airbnb has become a global leader by allowing users to rent out their properties to guests at an affordable price. This interactive system has allowed hosts to earn money, while guests are able to find suitable accommodation.
Did you know how Airbnb monetized its journey? Brian Chesky and Joe Gebbia founded a company that was originally known as Airbed & Breakfast. But that was for a quick make-money scheme and cash grab since they needed money.
So they bought air mattresses after renting out part of their San Francisco apartment initially to three visitors who wanted to attend a design conference. It was that convenient and that brilliant as an idea that led to a successful business idea.
Down the line, 12 years later in 2020, Airbnb had a valuation of $86.5 billion, during the time it became an IPO, it was selling at $146 per share on opening day.
But with a complex ton of functionalities, it provides to its users, it is important to understand the seamless transitions. 
To understand how to make an app like Airbnb, you need to understand it from the client's point of view. 
How to Use Airbnb App?
To learn how to make an app like Airbnb, you should know the fundamentals. There are two types of users —  guests and property owners.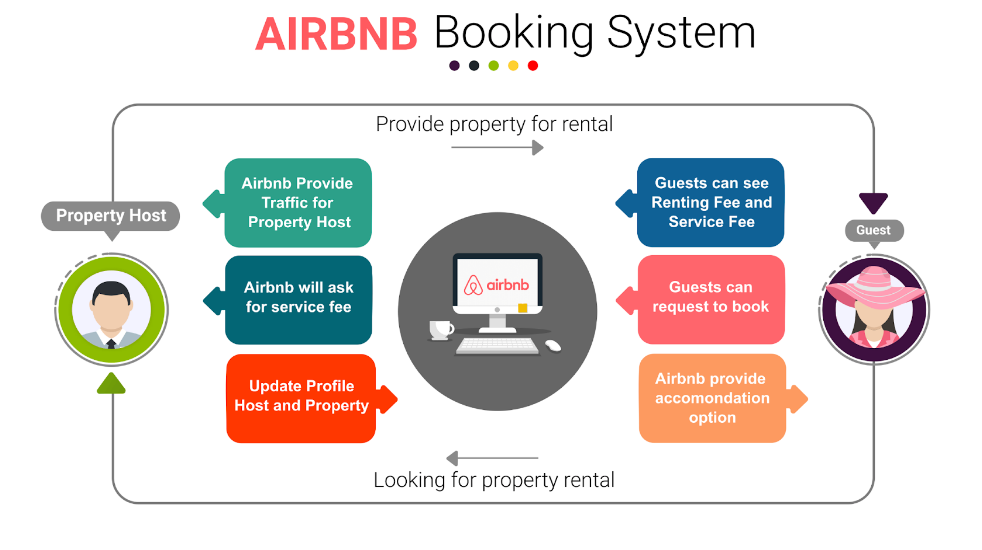 The Airbnb process flows like this:
The property owner lists out all of their owned properties with the description of facilities, rules, pricing details, and other itineraries for a hospitable stay. 

Those searching for the accommodation Airbnb distance filter, search through their location, budget range, and other specific essentials such as the date or number of members.

Once the user finds the perfect fit, he will request a booking after viewing the booking subtotal.

The property owner receives the request and decides whether to approve the booking or decline the request of the user. 

If the owner approves the booking, the deposit money is deducted from the account of the user. The payment includes the Airbnb service fees, cleaning fee, host service fee, etc. The user shall pay the remaining split fee amount after their stay at the property. 

The last stage is the reviewing of the host's property and user for future references. 
Before we head on to how to build an app like Airbnb, let's have a look at its features.
What are the Features of Airbnb? – For Guests
To learn how to make an app like Airbnb, these are the must-have features of Airbnb that you will need to know.
Sign-up/Login: The guest user needs to sign up on the website or the app. Or they could also login using their user ID if they already have an account and they can also log out of the Airbnb app.
Manage Account: The users can update their personal information and set or change their passwords. 
Search Filter: These filters help users to navigate better and shortlist their accommodations based on the specifications of their preferences.
Apply filters such as property size, number of people, price range, available dates, facilities, etc., and then select. This feature saves a lot of time and pointless scrolling through to find a suitable property.
Wish List: If they have options they want to consider and not lose track of their searches the user can wish-list them for future reference. 
Chat Notifications: This feature notifies the user if they have any messages, details of any offers, and other booking details.
Chatbot: A chatbot enables the user to keep communication alive with the property owner before they book the property. 
Maps: Users should be able to locate the property on the map to navigate the surrounding area and get all the address details for better understanding.
Booking: This feature allows the user to book the desired property and display the past booking history. 
Payments: After finalizing the property and the duration of the stay, the user can pay the amount. They can also view the transaction history, and select the currency, and the payment method. 
Help: Regardless of whether your UI is seamless and user-friendly, users usually face difficulties working with rental apps. The help feature offers them solutions when faced with problems regarding booking, websites, short FAQs, etc. 
Review: Users can share their experiences about their stay and the host for better references. 
Sharing: This feature enables the users to share the applications with their friends and also invite them to use the app. This feature also works best for marketing the app and getting it around people. 
What are the Features of Airbnb? – For Hosts
When it comes to how to make a site like Airbnb, you need to be well versed with its features. These are the features that the hosts are provided with:
Sign-up/Login: The property owner must sign up and put in their login details if they already have the account.  
Manage Account: This feature helps the host to edit and update their personal information and update or set their password. 
Registration: The property owners register the details of their property such as the location, price range, rules and regulations, property size, facilities, etc. 
Manage List: This feature enables the host to update and edit any of the property information.  
Booking List: This helps the property owner to take and manage their previous and upcoming bookings. is the place where the property owner can manage all their previous and upcoming bookings.
Request: This feature allows the property owner to approve or decline the booking request from the users.
Chatbot: This feature enables the host to interact with the users before booking the property. 
Chat Notifications: This feature provides push notifications for messages, updates, etc.
Account Details: This feature allows the host to keep track of their booking deposits, history of payment, and other payment transaction details.
Review: This feature enables the host to preview the reviews of the user and add their thoughts or responses. 
Sharing: For marketing purposes, it is important for hosts to be able to share the app with their network and peers. 
Admin Panel Dashboard — The admin dashboard provides a comprehensive view of all the users registered as new or old guests and hosts.
Manage new listings — All of the listings that are newly uploaded are scrutinized for further processing. The admin has the liberty to add, delete, and edit listings as per the changes required. 
However, you must have wondered how to delete a wishlist on Airbnb but users can also manage their wishlists.
Booking History — The records of all the bookings, new ones, and previous bookings compile here and the current status of each reservation is displayed. These can also be edited, updated, or deleted. 
Feedback and Complaints —  The feedback and complaints are processed here which can be viewed by both the guests and viewers. 
Insights — It has the compilation of all the previous and current activities and offered detailed insights that help in making future decisions. 
Tech Stack Architecture to Create an App like Airbnb
Let's get deeper into understanding how to make an app like Airbnb.
Get Your App Dev Cost/Time Calculator for FREE!
Techstack of an app like Airbnb:
Here are some of the tech-stack you will end to build an Airbnb clone app: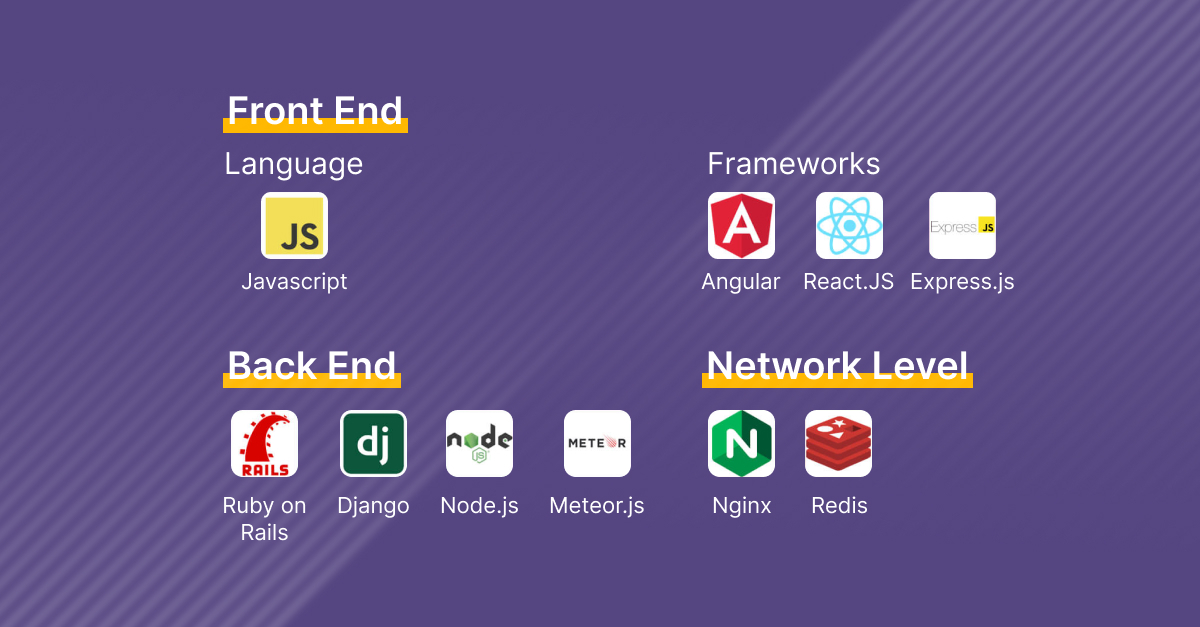 Programming Language: Javascript, Kotlin, or Swift
Front End  Frameworks: Angular, React.js, Express.js
Backend technologies or Frameworks: Ruby on Rails, Django, Airbnb node, Meteor.js
Server Side technologies: AWS, Azure, OpenStack, DigitalOcean, Google Cloud
Network-level caching services: Nginx, Redis
Databases: MySQL, MSSQL, MongoDB, Azure DocumentDB, Cassandra, PostgreSQL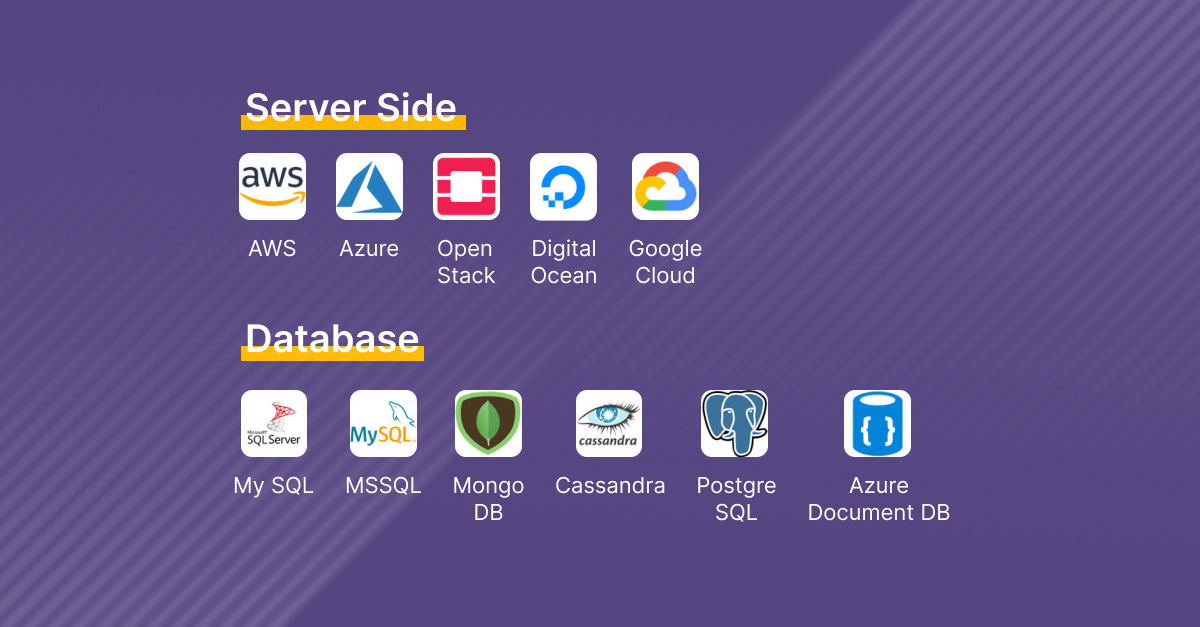 Besides the tech stack, you will require specialists to build a website and mobile app for an app like Airbnb:
Business Analyst

Project Manager

QA Engineer/Analyst
Every project must commence through the necessary steps taken toward implementation. Here are a few time investments required from your end based on the resources and technical modules used. 
Next, we determine the app architecture. Since every project commences with initial action steps. 
We can calculate the hours per step by dividing the app into different components based on the overall app resources, modules, and technical base used. To know how to make an app like Airbnb it is important that it runs smoothly for which this has to be executed well as Airbnb keeps crashing if implemented poorly.
It is crucia to give enough time in the development process or else the Airbnb app won't open due to malfunctioning, for instance. To ensure that you get your pap developed effectively, these mobile app development tools will surely come in handy.
Here are some of the time considerations you must keep in mind for Airbnb-like app development. 
20 hours — Project setup
20–25 hours — REST Airbnb API implementation
10 hours — Database model
10 -15 hours — Implementation of services and libraries
To kick-start, your application, try developing and testing a simplistic MVP solution by focusing on the steps below to understand the architecture in detail.
1. Create the user for the app and the backend for this user
Registration feature — This basic step of login helps the users access the app and use them. After seeking the agreement of the user with the conditions and policies, you can start to use the app. It would consume around 10-12 hours to get you started.
2. User Profile
Two types of user profiles for guests and hosts will have to fill up their personal details: 
Name

Gender

E-mail address

Birth date

Telephone number

Permanent living address

Personal Description
3. Filters

Filters help both the users and hosts to add information on the house type, pricing, room type, accommodation details, check-in and check-out dates, location, etc. Since this process is vast and dynamic, it may take more or less 24 hours to build because of this sole reason. 
4. Accommodation Description
The accommodation helps the user shortlist them after the filtration to go through the various options. The details of all the accommodations have basic variations such as: 
Photos

Map with the location

Accommodation

Host Profile

Amenities offered or available

Rating

Reviews

Price

Terms and conditions

Available dates
5. Maps

Maps help them to assess the area and spot a place to stay. The Airbnb map search is the most crucial feature of the app. This Airbnb map view on the app allows the users to navigate through the routes and neighborhoods, and other amenities that are close by. 
6. Settings
The users can always customize and configure their preferences as this feature allows you to control:
Push notifications

SMS notifications

Updates on rental options in a specific area

Messages

Wish-lists

Payment method and currency

Invite Friends

A user can easily invite a friend to download the application and join it.
7. Add to Favorites
This helps the user bookmark results and add them to their favorites for viewing later. 
8. Translate Feature
Users may know different native languages for which it is important to have a feature to translate the descriptions of the rooms into their preferred language. 
9. Guide Feature
This personalized feature displays a cumulative of all the sites and neighborhoods around the chosen location that can be visited.
10. Property Listing
After signing up as a host, fill in details for the app to show the approximate rent that you can charge for your apartment or room. 
11. Back end
This is the most crucial part – the server-side of the app which usually is the highly time-consuming process of automation. a lot of time in configuration from both the client and server-side. 
The server-side configuration includes all of its server connections and functionalities. Whereas, the client-side is how the user interaction happens virtually. it will virtually interact with a user and the server-side includes its functionalities, Airbnb server status, connections, etc. 
The other functionalities include classifying the app's backend into different services by separating the benefits that would crash. In addition, this means essentially removing all of the 3rd party booking Airbnb services that are not directly controlled by you:
Booking services

Search services

3rd party services

Payment services

Chat services

Offline-online synchronization 
The application user will tend to use the search services more often than the other services. The Airbnb API for developers diagram below displays how you can separate your application's search and chat services.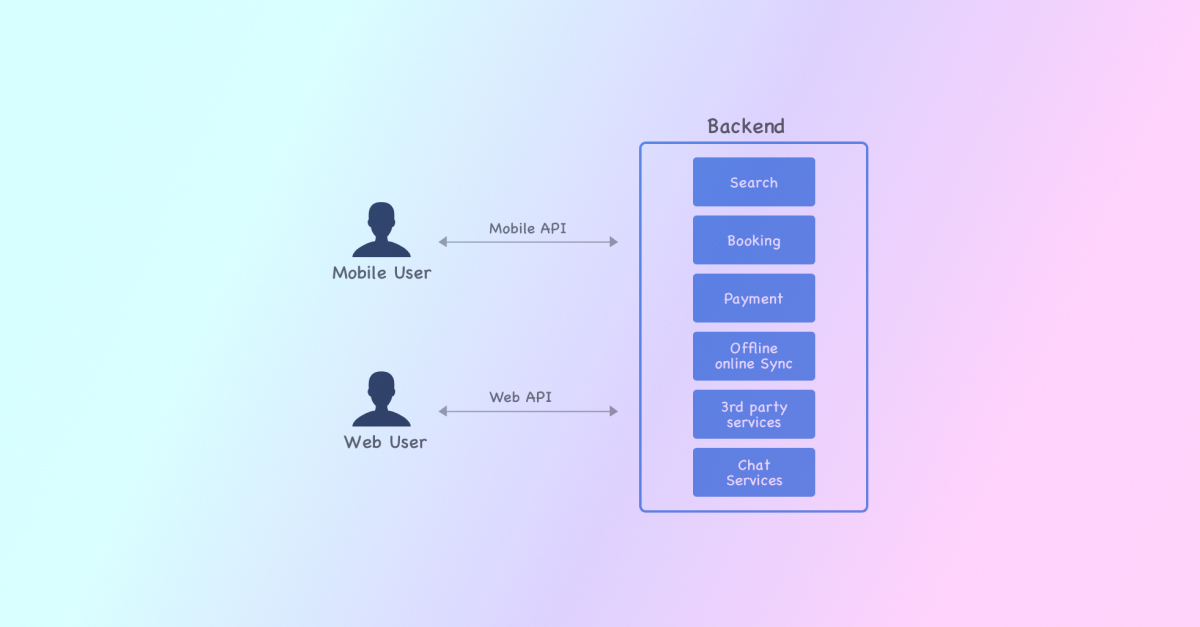 The search services use Airbnb Python API services, whereas the chat services use any third-party services like Amazon MQ. These features must be built meticulously because users often complain about Airbnb push notifications not working.
12. Mobile and Web App Separation
Users that come to your site from either their personal phones or through desktop/laptop will be different. The user interface has to be different for both cases. This is why it is recommended to use other modes of communication as the backend services for such instances.
There needs to be concrete Airbnb API documentation as this will also help you in preventing any kind of Airbnb API data failure when you build an Airbnb-like website.
For example, if your mobile app does not work at times, the user will be able to book through the web mode.
This separation also requires you to define the components in greater detail, you must choose API services for your app between REST or GraphQL. 
These APIs are developed recently, you can choose to write the booking services of your app using either PHP, Python, or Javascript. After that, all the booking-related information will be stored in your database using MySQL. 
13. Offline Syncing and Data Infrastructure
By now you have started to implement most of the steps of the app architecture but even during this point, your app may not synchronize well. Your Airbnb data architecture may lack offline support which is why it is synchronizing offline.
In such cases, you can use Realm, Firebase, or CrunchBase. This helps in storing the data locally till the user's mobile device is within the network mode again. This also allows you to build more specific services that handle all of your offline storage of Airbnb data. 
Advanced Airbnb App Features for Superior User Experience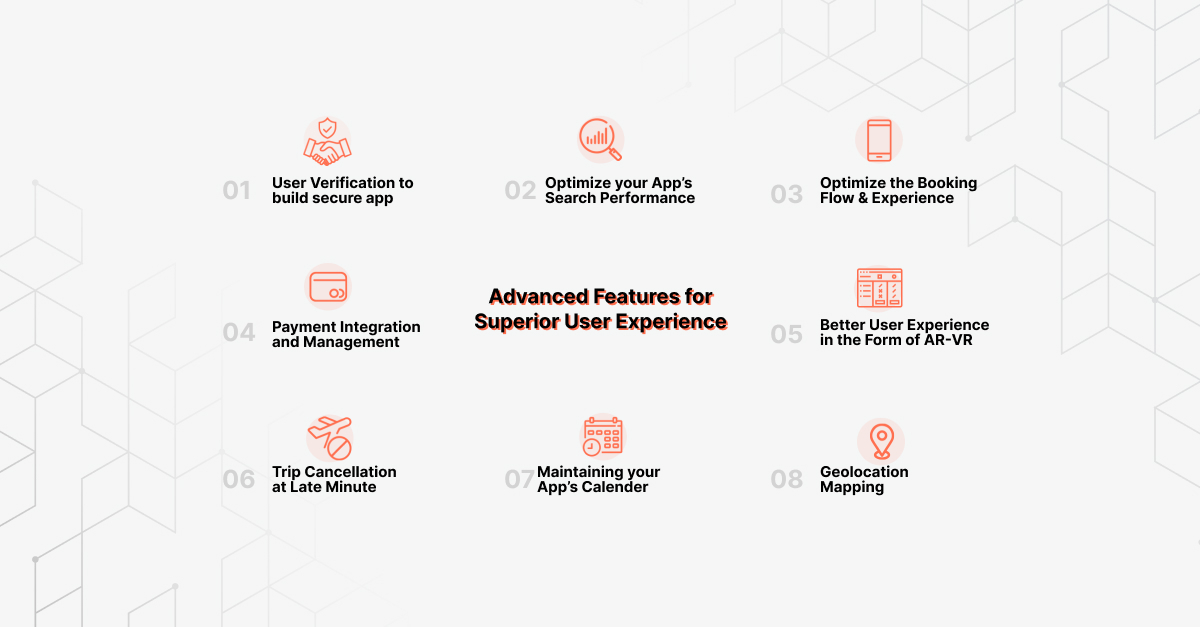 User verification

App search

Booking features

Comparison of different listings

Trip cancellation

In-app calendar

Payment integration and management

Geolocation

AR and VR-driven experiences

Application security

Chat functionality

SEO-optimized single-page apps
1. User Verification to Build Secure Application 
User verification is the most crucial part of ensuring a trusted environment for all your users. Securing the host's and guests' travel experience is the most essential component to create an app like Airbnb. 
Verify your user's online and physical identities during the signup process of the app. You can also ask for the submission of identity information such as their passport, driving license, or any other government-issued IDs that are permitted by the laws.
Usually, this verification process requires user identification through machine learning technology to verify the facial image to the identity. However, you can use third-party tools that are both cost and time effective by automating the verification process completely. 
2. Optimize your App's Search Performance
Searching is one of the primary features of the application wherein the users interact the most which can either make or break your app!
It is not easy to create robust filtering through which developers generally refer to highly complicated search algorithms. This is because when working with such searching features to implement, developers jump to refer to complicated search algorithms. 
An application like Airbnb follows a pattern for the searching process: 
Types of rental properties

Prices range

Location

Dates available
But implement these search features faster, you will have to consider using the ElasticSearch or AWS Elastic Search for optimum search performance of your app. 
AWS Elastic search is a hassle-free open-source search engine that enables you to search, store and analyze large volumes of data in bulk within milliseconds. Most importantly, setting and analysis have to be correct for users to receive precise search results.
3. Optimize the Airbnb Booking Flow and Experience
Firstly, leverage instant booking wherein the hosts can list their properties for instant booking for users to book them instantly. Since this helps in reducing cancellation or poor user experience for your guests, they will be more than happy to become strong advocates!
Besides optimizing, build a feature that could complement other features to provide a better user experience. Above all, instant booking is one of the killer features of Airbnb that can maximize the number of bookings within the app.
4. Processing Payment for your Application 
Many such third-party apps such as Stripe, Braintree, etc. may help you with integrating payment gateways. This is why you will not have to worry about Airbnb, not processing payment.
Although, even with the processing of payment and integration of payment gateways, here are scams and fraudulent practices you must look out for:
Fake listing of properties through addresses and images

Fake reviews by relatives of hosts

Demanding extra payment by the hosts

Duplicate listing Airbnb, photos,, and template messaging

Blackmailing of the guests/hosts for good reviews

Fake email scams
To prevent these scams, use MLAs to detect these fake listings that risk the host's reputation before they go live on the app. Due to this, the algorithm immediately blocks any sort of fake listing once they are found before it appears on the application.
You can also enable the flag feature that allows the user to report or flag any suspicious or fake listing of the host. These flags can be directly tackled into risk modeling to re-evaluate the listing and automatically remove or review it. 
5. Better User Experience in the Form of AR-VR
Many such rental apps like Airbnb improve their user experience by leveraging AR and VR technologies. This enables you to showcase to the app's users more effectively by showing the minute details of other facilities to convince the travelers to select their stay. 
Therefore, it is advisable to add the right MVP architecture such as ARCore, Google VR, ARKit for Apple and Argon, VIRO, Augment, or Babylon.js  to provide dynamic and agile features.
6. Trip Cancellation at Last Minute
Hosts can usually cancel the booking even after the deposit and any user would choose to avoid such a situation. However, you can reduce such last-minute cancellations by charging an amount as the cancellation fee to the host. 
There are other options by which a total number of cancellations are set and dates are blocked on the calendar for last-minute cancellations by the host. This ensures security to your users as the hosts can only cancel the booking if there are no other options left. 
This will also prevent them from further leveraging the surge price by disabling them from accepting the requests at the last moment. 
Although, dealing with last-minute cancellations is a huge task but it is the best option for your audience. Or you could provide an alternative nearby place if the user cancels last-minute.  
7. Maintaining your App's Calendar 
Without managing your app's calendar you are bound to make a mess out of the bookings that you have received. Many times the host may readily accept the dates of the booking requested by the user but end up realizing that the rooms may not be available. 
This in turn leads to last-minute cancellations which is a huge loss for both sides of the market. Therefore, this becomes a worst-case scenario since the host is unable to manage their calendar effectively. 
By creating a contextual calendar, you can optimize the user experience of your application and also research the host's visited traffic on the calendar. As a result, this would give you an insight as to how the host manages their calendars. 
For example, the probability of the hosts checking out their calendar is higher on Wednesday, Friday, and Sunday.
8. Geolocation Mapping
Apps like Airbnb must have the functionality to enable geolocation which displays all the data of available apartments on the map with their price ranges. 
By fetching all of the information about the apartments, it offers better navigation by dragging, dropping, or zooming in on the map. When the user clicks on the marker, they can get detailed information about the property. 
Most importantly, using Mapbox studio along with OpenStreetMap enables you to design the maps as per your requirements and display the data properties via Mapbook. Whereas, if you want to implement maps like Airbnb you can use Autocomplete Services of Google Map SDK.
This helps the user to write the information about the location, zones, and zip codes to get the desired results for their favorite locations. For instance, you can use Google Matrix API which allows you to calculate the approximate distance from the current location and the duration of travel to their chosen destination. 
Also, you can use Google Matrix API which allows the user to calculate the approximate distance and travel time from their present location to their destination. 
Get Your App Dev Cost/Time Calculator for FREE!
How much Would it Cost to Build an App like Airbnb?
Understanding what requirements are there to create an app like Airbnb with 24/7 customer support is important. But what is more important is to know how an app like Airbnb charges or the total of Airbnb rental estimates.
Creating a vacation rental app like Airbnb has a dynamic user interface that can cost you a lot. You could either choose to outsource it from companies that provide app development services or you could let your in-house engineering teams develop the app. 
Apart from that, you will have to also cover the costs Airbnb app –
Deployment Platform

Tech Stack and Airbnb Microservices Architecture

Technical Complexity

UX/UI Customization
It takes about 60 days to roll out a fully functional PoC that can validate the idea for a group of beta users. This would also give them early access. 
When it comes to taking user feedback and PoC data and integrating them into the product, it would take around 150 days to develop the full-scale version. Now coming to the main question: how much does it cost to run an Airbnb app?
The app development costs would then be aligned with the PoC with the final product requirements and the Airbnb estimates development time for all the features combined. These costs may vary from company to company as well as country and country. 
Get Your App Dev Cost/Time Calculator for FREE!
How to Make an App Like Airbnb – Final Words
To learn how to make an app like Airbnb, remember that a product is an entirely different thing than building it. Making an app that beats the competition that its market warrants are a difficult journey.  At RnF Technologies, we have experts who have excelled in the field of mobile app developers who can create a site like Airbnb for you!
As one of the top mobile app development companies providing our services to a wide range of industries, we offer our services to grow your business! So, let's grow together. Contact us now to get a cost estimate of an app like Airbnb or any other app idea you might have.
Frequently Asked Questions (FAQs)

 
How much does it cost to build an app like Airbnb?
Around $46,137 for web app, $48,950 for Native iOS app, and $46,500 for Native Android app.
Please note that this is an estimated cost to build an app like Airbnb. The costing depends on the number of hours put into working with each of the functionalities and varies on the deployment Platform. In conclusion, it could be the Tech Stack and Airbnb, Microservices Architecture, Technical Complexity, and UX/UI Customization of the app to create an app like Airbnb.
How long does it take to build an app like Airbnb?
1800 hours for Airbnb-like web app, 1300 hours for iOS app, and another 1200 hours for Android app.
Again, this is an estimated app development time. You will have to be patient as knowing how to build an app like Airbnb is not all since Android estimates for an MVP of an Airbnb-like app take hours to complete. However, back-end development is a highly important point to consider. The whole server creation could take up to more than 300 hours for iOS Airbnb and Android. 
How to start a business like Airbnb?
It is important to understand the business model of Airbnb when it comes to how to make an app like Airbnb which is created for a mass market that connects communities through tailored experiences in a completely different way.
The major advantage of learning how to make an app like Airbnb is that your business does not need to own any rental properties. Instead, your website starts to become a platform that acts as a facilitator between hosts and travelers.