Mobile apps are great. People like using them and businesses love extending their services/products through them. But not all apps have millions of downloads with thousands of active users. In this blog, I am going to talk about 6 strategies on how to increase app engagement and user retention.
Before we get to the mobile app retention strategies, it is important to understand how grave the situation is. I have compiled a few stats to give an idea.
Every 1 in 2 apps is uninstalled within 1 month of download.
90% of consumers who engage with an app even once a week stick around.
"Not in use", at 39.9%, is the top reason why users uninstall a mobile app.
Consumers are expected to download 143 billion mobile apps from the Google Play Store in 2026, up from 111 billion apps downloaded in 2021, a nearly 30% increase.
Users will download about 38 billion apps from the Apple App Store in 2026, up about 15% from the number of downloads in 2021.
Mobile app engagement is basically how many hours a week/a month or how actively are your consumers using your app. App user retention can also be defined along the same lines. 
The combined meaning of app engagement and app user retention is how many of your users stick to your app in the long run. The number of apps in today's market has increased to a point that companies are finding it hard to keep their users engaged enough to retain them.
The key metrics to analyze mobile app engagement strategy are:
Daily active users

Monthly active users

Retention rate

Churn rate

Number of sessions

Session length
Several mobile apps are projected to generate $935 billion by 2023. Will your mobile app join this race?
In this article on how to increase app engagement and user retention, I'll talk about 6 mobile app user retention strategies.

Let's now look at each of these strategies on how to app engagement and user retention in detail. 
Onboarding Experience is Important
Did you know that effective app onboarding can increase app retention by up to 50%?
The onboarding process is the first time when a consumer uses your app. A smooth onboarding journey will keep your app in the good books of your consumers and definitely be one of the ways how to increase app engagement & user retention.
There are many mobile apps that don't even ask their consumers to create a profile right away. They allow their users to navigate through the app and ask them to create their profiles when placing an order or a few minutes after app usage. 
Two things that come into play here for mobile app engagement are – User Privacy and a Smooth experience.
As you must be aware, today's users are becoming more and more concerned about their online data privacy, and creating a user profile will need access to the phone's gallery, camera, etc. Asking for too many permissions can spook your users away and ruin your mobile app engagement strategy.
A smooth experience is important, especially when someone is using your mobile app for the first time. Take Amazon's app for example. 
The first screen of the app simply displays its logo. 

You'll be asked to choose a preferred language on the second screen. 

You can either sign-up/log in or even

skip sign-in

to start using the app.
Easy, right? That's what you should aim for in order to improve your mobile app engagement & user retention as well – A Smooth Onboarding Process.
Use these things that create a great app onboarding experience when wondering how to increase app engagement and user retention.
This is one of the app engagement strategies that definitely work. Keep the onboarding process of your mobile app as simple and as minimalistic as possible. Just like Amazon, Instagram sign-up process is quick and easy.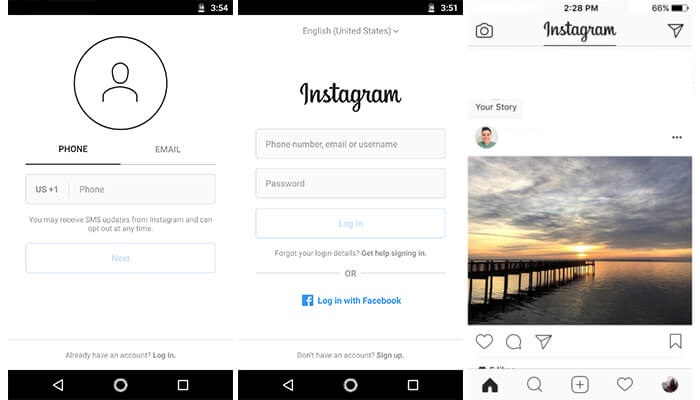 A good rule of thumb is to limit the account creation or user onboarding process to a maximum of 3 screens. A major chunk of users who download your app is trying to figure out what your app is all about and/or to know how it works. 
Keeping a complicated onboarding or signup process will just drive them away and won't help at all with app retention.
Onboarding Checklist/Progress Bar
If you are planning to keep user sign-up/login as a part of your onboarding process, keep an onboarding checklist or progress bar to let your users know how long the entire onboarding process is going to take.
Here's how Evernote does it. Do you see that progress bar on both screens? Well, that's what you want for your mobile app as well to boost the app retention metrics.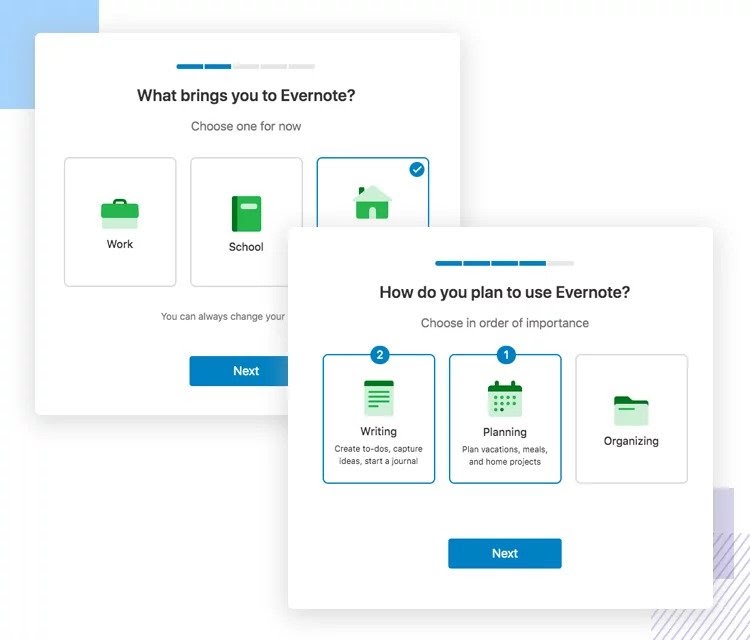 Toward the end of the user onboarding process, you can add a CTA that works well for all of the mobile app engagement campaigns. It could be anything from connecting social media accounts to completing a task or anything else. 
For instance, as soon as you finish signup, Buffer asks you to connect your social media accounts. This is one of the app engagement strategies that could work. It will give your users a task to complete right away which will keep them engaged.
Note: It is advised to stay on the safe side when adding a CTA at the end of your user onboarding process. Now, Buffer asks its users to connect their social media accounts because it is a social media management tool. Don't keep this CTA too direct or sales-y.
While almost every other app sends a welcome email to its users, walk a little extra mile to use it effectively as one of the most effective mobile app engagement strategies.
You can use your welcome email to set up a genuine relationship with your users. You can use it to drive user engagement by educating your users about your app, sending a personalized message, providing social proof, etc.
I really like Headspace's welcome email. This is how it looks.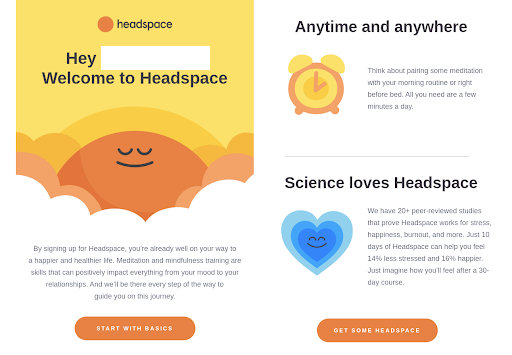 Personalization
Did you know that personalized messages can increase app user engagement by up to 20%?
Here's the thing. Every human being wants to feel special and, with personalization, you are feeding that yearning of your app users. 
As such, personalization can serve well in your search for how to increase app engagement and user retention. The good news is that mobile app personalization is a deep forest that is waiting to be explored and once you are through, the retention metrics for apps are directly impacted.
This level of personalization can increase mobile app engagement and also app retention.
It could be anything from sending personalized push notifications and customized in-app messages to sending product/service recommendations based on the likes/dislikes of your users. 
I love how Spotify takes care of user personalization.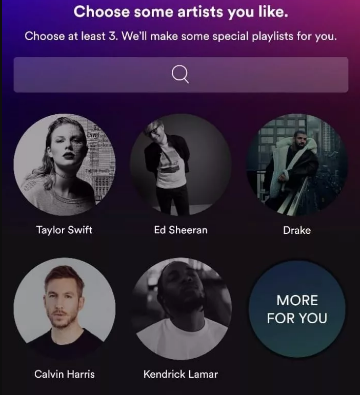 Only 28% of mobile apps use personalization and it can be game-changing for your app. 
The problem is we are way past the era when just addressing users by their first name and sending personalized product suggestions were part of mobile app personalization. 
Julien Boudet, a McKinsey Partner, says 
"Personalization is an approach to customer engagement— almost a philosophy—that focuses on delivering tailored, meaningful, and relevant customer communication."
Good app personalization is not only one of the most effective app engagement and user retention strategies but it also helps you turn your consumers into your brand ambassadors. While we are at it, personalization shouldn't affect your overall mobile app performance.
Here are 3 mobile app personalization tips to implement when wondering how to increase app engagement and user retention.
Collect User Data But be Transparent About it
For on-point app personalization, you'll need to collect user data. The goal is to use this data to know your users – who they are, what are their likes and dislikes, etc. Once you have enough information, you can create a personalized experience for them.
Few types of user data you would need are – name, age, location, app activity, session time, etc.
Collecting user data is important but I would advise you to be completely transparent about this. Tell your app users about the type of data you are collecting and what you'll be using it for.
In-App Messages & Push Notifications

In-app messaging can be a bit tricky. While you can implement app personalization through in-app messages, sending too many can easily distract your users and cause a poor user experience.
You can use in-app messaging to prompt users about product suggestions and request them to rate your app. A study has found that only after 41% of respondents receive a personal offer, they look for things they can apply it on. Furthermore, only personalized messaging attracts 72% of users' attention. In addition, individuals enjoy feeling taken care of, even if it is by a piece of software.
Today, you can use mobile app analytics to understand your users better than ever. A few of the metrics that you can track for app personalization and thus, increase app engagement and user retention, are:
Touch Heatmaps: Touch Heatmaps help you understand your user preferences, exit points, and more at a visually informative level.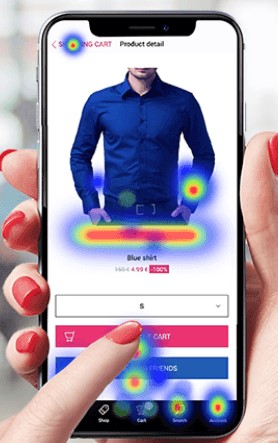 Mobile Session Recordings – Session recordings have completely revolutionized app analytics. With a recording of user behavior, you now know exactly the pain points and areas where to improve your app.
A Tour of Your App's UI 
Is your app too complicated? A tour of your mobile app UI can help you when you are trying to find answers to how to increase app engagement & user retention, and increase mobile app retention metrics.
A simple UI is a must when it comes to improving app engagement. But you can't always keep your app's interface following other popular apps in your domain, especially if your app is unique.
A UI tour of your mobile app helps you to directly interact with your users about in-app navigation and how to effectively use it. While a UI tour might sound like a great idea to increase app engagement and user retention, there are two different schools of thought on this.
One segment of experts believes that you shouldn't bombard your users with information about your app just after they have downloaded it. There are many apps whose app discovery journey is long. 
Consider a user who has to dig deep in the Play Store or App Store to find your app and then go through 15 screens teaching them how to use your app! That would be so frustrating, right?
The second segment of experts believes that user onboarding is the best time to give a quick tour of your app's UI. The keyword here is "quick".
Here are a few tips on how to give a UI tour of your app to increase app engagement and user retention.
As mentioned earlier, try to keep the UI tour of your mobile app to a minimum. A longer app UI tutorial will cause a reverse result by driving your users away. You can't expect users to remember all the functions that you bombard about your app's usability. 
For the basic app tutorial, Slack uses just 3 screens.
Use Tooltips and Hotspots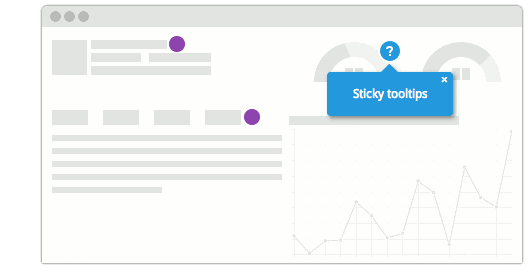 Your users favor images and demos rather than long texts. So, don't tell, show them. Using tooltips and hotspots for the UI tour of your app can be a potential solution to your question about how to increase app engagement and user retention.
Trying dividing the entire tour into a bunch of small tutorials rather than one long video/demo. This will ensure that you are not front-loading your app with a lot of information about your app and, at the same time, educating your users about how your app functions.
Add Home Screen Quick Actions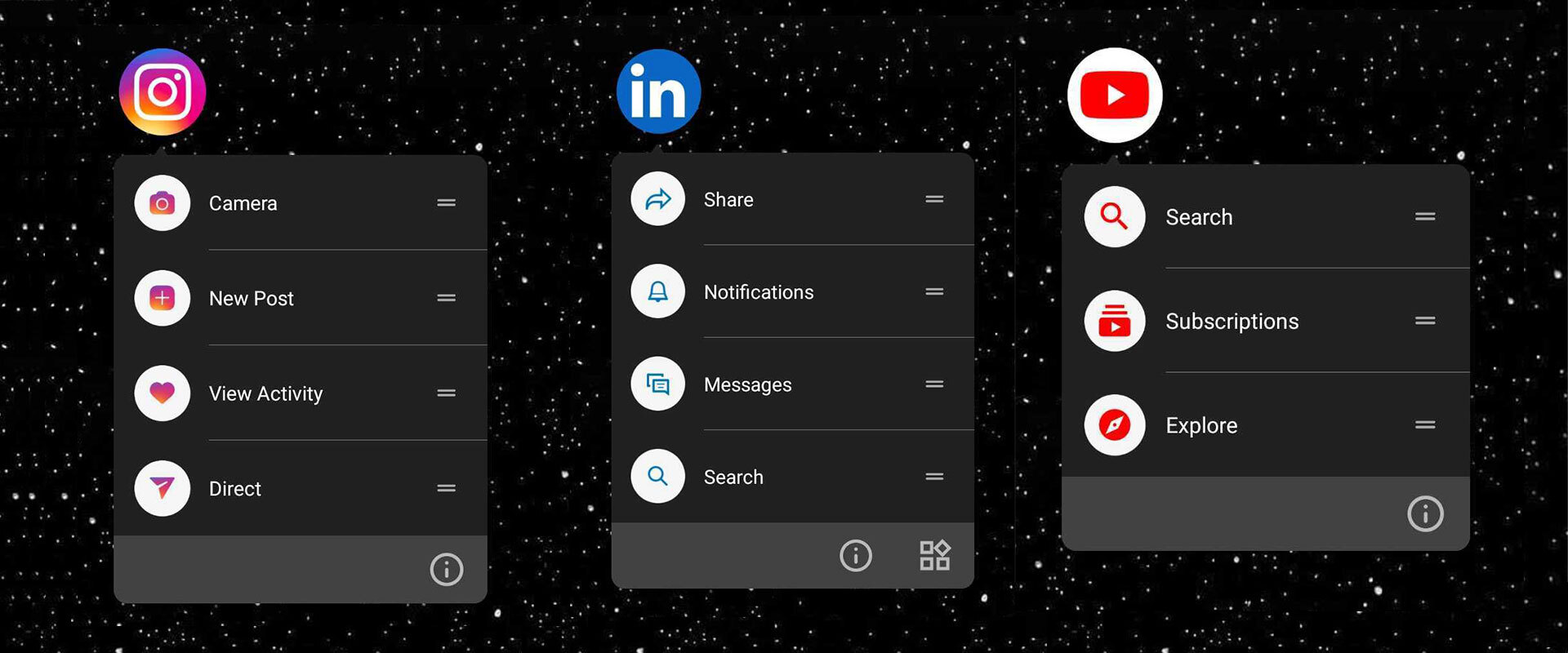 Not many apps are using this feature to increase app engagement and user retention. As such, Home Screen Quick Actions can be one of the key mobile app user retention strategies when done right.
Let's take LinkedIn, for example. It allows you to navigate within the app using the Home Screen Quick Actions. You can directly go to your messages without having to manually open the app and tap on the "messages" section.
For developers, implementing Home Screen Quick Actions as one of the ways how to increase app engagement and user retention can be a bit tricky. It requires the knowledge of Deep Linking, Dynamic Quick Actions, Static Quick Actions, and more.
For iOS developers, Apple has created documentation on how to implement Home Screen Quick Actions in iOS apps. Android calls this feature – "App Features". You can refer to the official documentation to implement it in your app.
Push Notifications can be Game-Changing
Every app uses push notifications nowadays. But, over the years, the CTRs and app engagement driven by push notifications have reduced significantly. 
This is why you will have to be strategic about using push notifications as one of the strategies how to increase app engagement and user retention. Be it increasing your app ratings, mobile app revenue, or anything else, strategic use of push notifications can help you achieve your goal.
If you are not yet convinced of the value you can drive through push notifications, here are a few stats to change your mind.
According to a survey, mobile push notifications witness an open rate of 90%.

53% of users agree to share their location to receive location-based mobile app push notifications.

Within an hour of receiving it, over 40% of users interact with a push notification.

Push notifications boost app engagement and participation of users by 88%, whereas 65% of users return within 30 days of activating push notifications!
Now that we both are on the same page about the value of push notifications in increasing app engagement and user retention, here are a few top tips that you can use to drive maximum returns through your push notifications.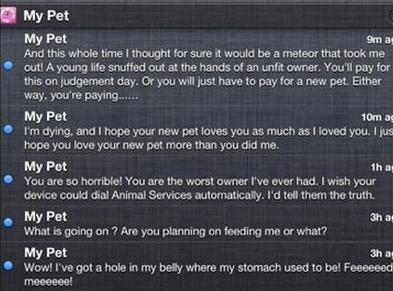 Think of this from a user perspective. You download a mobile app and within 24 hours, you get 5 notifications. If you are anything like me, you will just turn off the push notifications from that particular app or uninstall the app altogether.
This is something that you don't want for your app, right?
While it is good to be aggressive about increasing app engagement and user retention, push notifications are something you have to be thoughtful about to drive value in the long run.
Spend the first month to establish a relationship with your user using in-app messaging, personalized suggestions, etc. You will, of course, be sending push notifications in the first month, but just not as aggressively.
Once you have established a relationship with your user, start sending push notifications. You'll witness a better CTR and better conversions.
Actionable Push Notifications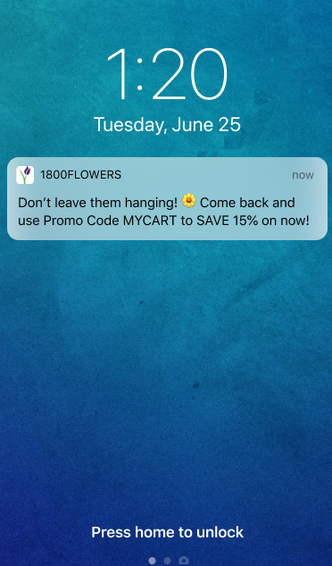 Be very particular about the content of your push notifications. Ask your team to decide what they want to show through these notifications.
Studies have shown that users expect actionable alerts from their favorite mobile apps. For instance, if you are notifying a user about a discount offer on their abandoned cart value, there are two things you should keep in mind.
The Call-to-Action (CTA) should be abundantly clear. Don't get too creative in hiding the intent of a push notification.

Use

deep linking

to minimize the number of clicks for a user to take an action through your push notification.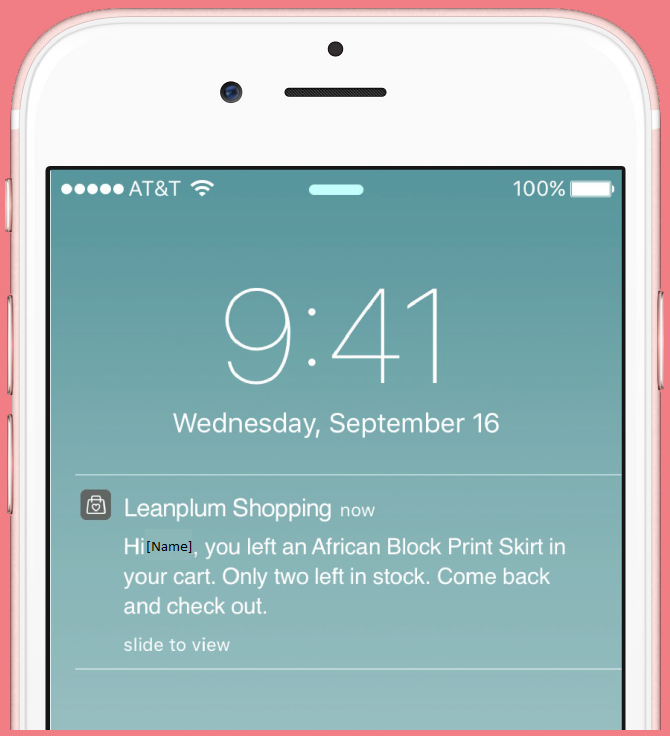 Everyone suggests personalization, right? Most of the apps are killing it with their app notifications and you should do.
Take a step forward from basic personalization such as addressing your users by their names. Push notifications in 2022 have to go beyond that. One way to do this is to segment your users based on shared interests, location, and other data.
Once these categories are ready, calculate the trigger emotion for each category. Use it to send separate push notifications for each of these segments. User segmentation, mixed with personalization, can be really impactful when you are looking for how to increase app engagement and user retention through push notifications.
Optimize Your App for Spotlight Indexing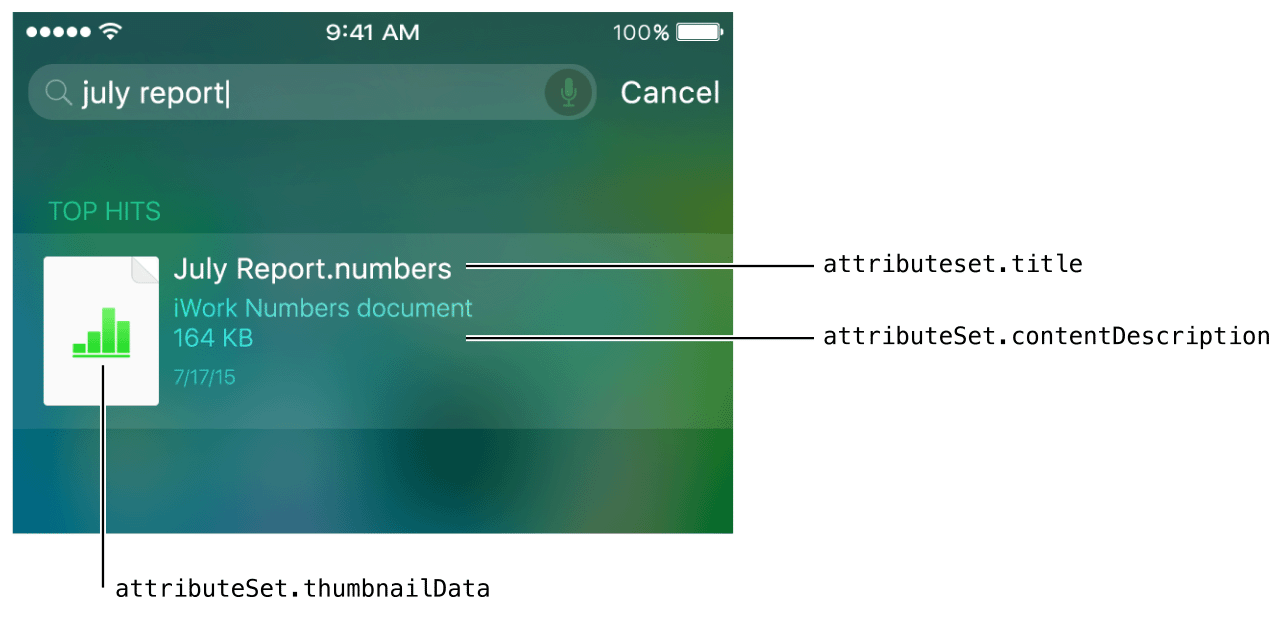 Hold your horses. This will get a bit technical.
I am going to be a bit biased on this point. The Spotlight Indexing is a feature offered by Apple for iOS apps only. Optimizing your iOS app for Spotlight Indexing can be a key strategy for how to increase app engagement and user retention.
If you are completely unaware of Spotlight Indexing, here's a familiar situation for you. Your SEO team works with your website development team to make sure that its technical SEO is on point.
Similarly, Apple allows your SEO team and app development team to work together to ensure the visibility of your mobile app in Spotlight searches. Initially, Spotlight Indexing was reserved only for Apple applications but the company made it available to the public in 2015.
You can optimize your iOS app for Spotlight Indexing using two indexing methods provided by Apple – NSUserActivity Indexing and CoreSpotlight Indexing.
NSUserActivity Indexing
NSUserAcivities basically is your app screen snapshot, along with how a user got there and how frequently they have interacted with that particular screen in the past. 
Just like websites, you can use contentAttributeSet to define the meta properties of that screen which makes it discoverable in Apple's Spotlight and directs users to that particular screen using deep links.
CoreSpotlight Indexing
With CoreSpotlight Indexing, Apple allows your development team to label all the app screens you want to index with a "uniqueIdentifier" for all "CSSearchableItem(s)".
If you use Spotlight Indexing effectively for your mobile app, you can use it as one of the ways when wondering how to increase app engagement and user retention. 
How to Increase App Engagement And User Retention – Final Words
If you haven't been able to drive more engagement and user retention to increase your mobile app revenue, you are not doing it right. I hope these 6 app engagement and user retention strategies will help you make the most of your mobile app.
How can we help? Well, I am glad that you asked!
Resourcifi is an award-winning mobile app development company. We have set up teams of expert web and mobile app developers, testers, and digital marketers. Contact us today!