You are planning for an eLearning app development but are unsure of how to figure out elearning development costs? Be rest assured, you are at the right place.
There's nothing to worry about if money matters are plaguing your mind. So, how much is the cost of e learning development? 
We can help you bring down eLearning development costs by at least $20,000 & without compromising on the quality of course! (This is subject to quite a few factors such as features, their complexity, etc.)
The secret goes beyond just outsourcing to the right region. You may already be looking for outsourcing options because it brings down the elearning development costs significantly. However, streamlining the eLearning app development process, right from the planning to the execution phase can help you save more. That's what we are here for!
Before moving on to that, you must congratulate yourself on the timing of your decision. This is one of the best times to go for e-Learning app development. 
The pandemic amplified the trend of e-learning mobile app development and studded the market with eLearning solution providers. The eLearning market was at its peak in 2020. 
Post-pandemic, with the resumption of offline learning, the e-Learning mobile app development market is slated to grow around 10% up to 2027. So, the supply-demand curve for e-Learning app development talent is in your favor. 
It's a win-win situation if you are planning for e-Learning app development. There's no way you should be overpaying right now for online learning apps. There are a lot of ways that can help you save a good amount on eLearning development costs! But what is the cost of e learning development?
The cost of e learning development varies from $20,500 to $40,000. It is the price of creating an MVP. The eLearning app development cost for the complete platform – admin panel, an app for students, and online learning apps for teachers could be in the range of $80,000 – $180,000.
The e-learning development costs depend on a few factors – a region of development, features & their complexity, use of gamification, etc. We will cover this in more detail.
Table of Contents
Outsourcing e-Learning App Development is not enough – Knowledge is Power!
The key to reducing e-Learning development costs is outsourcing. True!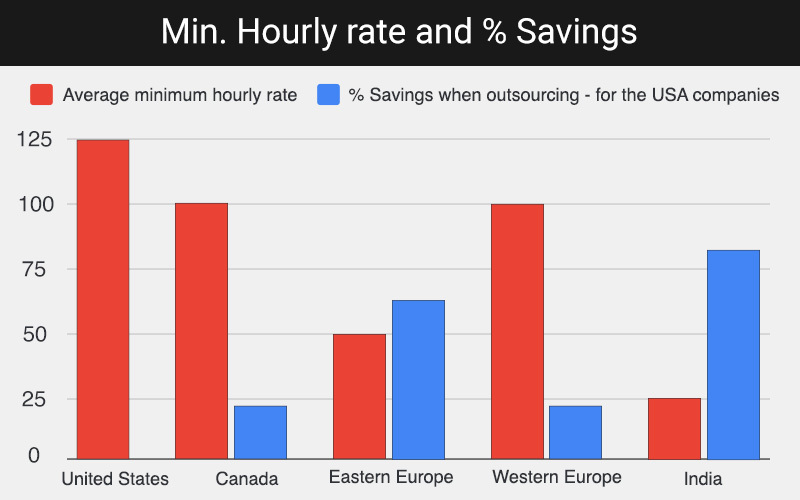 However, it doesn't end here. You may choose a reliable company with expert eLearning App developers and still be unhappy. The reason – A lack of e-learning app development knowledge and a communication gap. 
Why? First, eLearning apps are complicated so there are many aspects to consider simultaneously. Second, there's huge competition in the eLearning app market so there are fewer chances that an average app will survive. Third, e-learning app development is not a give-and-take deal. It's a process where you'll have to be actively involved.  
Many e-learning app development projects abort because of a gap between expectations and expenses. Overpayments for underperforming apps are common. Imagine tens of thousands of dollars going down the drain for ignorance! That's the kind of situation we are here to rescue you from!
Don't just avoid overpayment, reduce eLearning app development costs!
Reducing eLearning development costs is more than avoiding overpayment. While it's absolutely not about compromising on quality, prioritizing is crucial. 
It's about delivering value to your users without letting the app go bulky with unnecessary features. 
Finally, it's about making e-Learning app development smooth and enjoyable by choosing the right set of technologies.
The most critical factor influencing the development cost is the choice of outsourcing region and e-learning app development company. However, despite making the right choice, you may still end up outspending if you:
Are unclear about the type of eLearning app you want.

Are unsure about the features you want in the app.

Don't understand why a particular tech stack will work best.

Remain unaware of the challenges involved in eLearning app development.

Hesitate in asking questions, taking consultation, or seeking advice.
eLearning apps are sophisticated and avoiding wasteful spending requires a mix of smart decision-making and knowledge. To stay in control of the e-learning app development process, it's important to understand the factors influencing the eLearning development costs.  
What determines the eLearning app development cost?
The following factors will determine how much you'll be paying for the new eLearning development costs:
App Development Outsourcing Region

eLearning App Type

Features, Functionalities, and Platforms

Tech Stack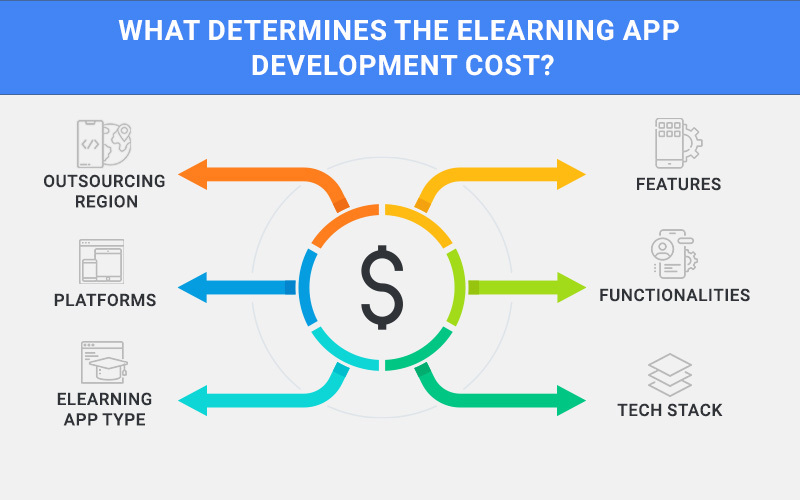 Outsourcing Region
Asia is the top e-learning app development outsourcing destination owing to affordable and reliable services. The e-learning app development cost in India, China, or South East Asia is 1/4th compared to North America or Western Europe. 
The average hourly eLearning development costs in India are $25 to $50.
India has the 2nd highest number of English speakers. Besides, it produces one of the highest numbers of STEM graduates anywhere in the world. With lots of fresh software and IT talent entering the industry each year, Indian companies deliver quality services at affordable rates. 
However, the most significant advantage of working with Indian companies comes from India's leading position on the e-Learning app development map. Indian eLearning apps like BYJU and Khan Academy compete with the world's best eLearning platforms.
If you are looking to outsource outside Asia, a reasonable option is Eastern Europe. E-learning app development from Poland, Hungary, Czech Republic, Romania, Bulgaria, etc. costs half that of North America or Western Europe. 
Types of e-Learning App Development
There are many types of e-Learning app development depending on the type of learners, scope, and delivery methods. Each eLearning app attains its character through its learner orientation, technological and utility scope, and delivery method. 
eLearning App for Learners
The learners can be school, college, and university students, corporate employees, or teachers and educators.
●     

eLearning app for Students
eLearning app that offers online courses for students are the most popular. eLearning app can also function as an eLearning app Marketplace. They allow uploading content as paid or free courses.
Examples: Udemy, Udacity, Skillshare
Corporate Training Platforms
These apps help in boosting productivity, performance, and employee satisfaction while keeping training costs low.
Examples: SAP Litmos, Adobe Learning Manager, TalentLMS
●     

eLearning App for Teachers, Trainers, and Educators
They help with maintaining attendance, communicating with parents, distributing assignments, scheduling classes, tracking student progress, etc.
Examples: Quizizz, ClassDojo, Nearpod
eLearning App by Scope
The scope of an eLearning app decides its structure and technological makeup. There are four basic types of eLearning apps by scope.
Aiming at interaction and collaboration, this elearning app can manage data from various eLearning providers on a single platform. They must cater to a variety of eLearning providers while remaining attractive to a wider set of learners.
Examples: Coursera, edX, FutureLearn 
Learning Management System (LMS)
Besides course delivery, an LMS offers course content and assessment creation, along with learning management functionalities. 
An LMS combines administration, content creation, delivery, and tracking and reporting functionalities. 
Examples: Canvas, Moodle, Blackboard
They enable live interaction and real-time collaboration between teachers and students. The idea is to replicate the classroom environment virtually, through videoconferencing, participation controls, and collaboration features.
Examples: Google Classroom, Adobe Connect, Class
Mobile eLearning apps are simpler and focus on shorter courses and lessons accessible on Smartphones. 
Their UI/UX is designed to increase attention spans while avoiding stress on the eyes and brain. eLearning app that aims at learners on the go, traveling office-goers, and those preparing for examinations.
Examples: LearnWorlds Mobile Builder, SoloLearn, TED-ed
eLearning Apps by Delivery Methods
 There are three types of eLearning apps by delivery methods.
 

Synchronous eLearning App
In synchronous online learning, the instructors and learners interact in real-time via the app. Their defining features are audio and video conferencing, live classes and presentations, instant messaging, white-boarding, file sharing, etc.
Examples: LumosStepUp, Google Hangouts, WizIQ
Asynchronous eLearning App
These apps rely on pre-loaded course material in the form of text, audio, video, presentations, assessments, etc. 
They offer a self-paced learning environment to the learners. Asynchronous eLearning Apps may include emailing and discussion forum integrations to boost learning via community interaction.
Examples: Google Classroom, ClassFlow, MindMeister
These apps carry the features and functionalities of both synchronous and asynchronous apps, depending on the learning requirements. They aim to bring the best of real-time and self-paced learning to the students.
Examples: EdApp, ProProfs, Accessplanit, Zoho Showtime
How to reduce the eLearning development costs further?
Being certain about the type of eLearning app you want before discussing the project will be helpful. It will enable you to draw a clear ceiling on the expenditure and avoid unnecessary spending. After deciding on the eLearning app type you can move towards creating the list of e-learning app development features.
The challenge is to match your objectives with the user's expectations without overshooting the budgetary limits of your e-learning app development project. Here's some help to help you in budgeting for your e-learning app development!
Ask yourself the following questions before commencing the project and finalizing the e-learning app development budget.
Who are the target learners?

What is their age group?

How much time would they have to learn?

What is the tech-literacy level of your target users?

In what forms will the app deliver the course materials?

Is there a need for live sessions?

Will your eLearning business need to attract course providers and institutions besides the learners?
With answers to these questions, you can move towards finalizing the features of your eLearning app. 
Again, to avoid overpaying for unnecessary features of your elearning app, recognize the essential features of an eLearning app. 
Thereafter, research the additional features that you want in your app and consult the outsourcing company in advance. Always note the time and budget that each feature will consume.
Essential Features of an eLearning App
eLearning apps can be simple or complex, but all of them have a basic set of features. Often, the lowest quote for e-Learning app development is based on a set of basic features.
Sign up and log in for instructors, learners, and administrators.

Profile setup and account settings

Course selection, category, and sorting dashboard.

Course progress dashboard.

 Admin Panel

File Uploading and Content Management

Payment System

Notifications
These are the essential features that all eLearning apps have. However, seldom does an eLearning app have only these features. 
Depending upon the purpose, target users, scope, and delivery methods, your eLearning will have many more features. 
To know more about the eLearning development costs and trends of e-learning app development,

Read More: Top 10 eLearning App Trends
After finalizing the list of features, you can discuss the tech stack the e-learning app development team will use.
Please note that some eLearning app businesses find themselves working the other way around. To hide their lack of proficiency, outsourcing companies trick them into finalizing the tech stack before deciding the features and functionalities. 
Unfortunately, that's the wrong way of going about it! It's like cutting the feet to fit the shoe size! 
Similarly, some outsourcing companies deliberately follow the wrong workflow so that they can charge extra at a later stage. 
You will be compelled to pay extra charges to "accommodate" features later. You may end up paying twice or thrice the initial budget with such a faulty workflow. To avoid such a crisis, follow these steps:
Note down the purpose of your eLearning app.

Mention how you wish the app to deliver the lessons, courses, and training models.

Request a list of features that the outsourcing company can build.

Mark the set of features you need to satisfy the learners and instructors.

Finalize the platforms for your app. For example, web, android, and iOS.

Divide the features into two heads, basic and advanced. The elearning app with basic features may correspond to the MVP version.

Get a quote from the app development company for the features you want.

Leave aside 20% of the budget for last-hour additions and improvements. eLearning app development projects are complicated. So, there's nothing unusual if you miss out on some important features initially. 

Move on to discussing the tech stack for developing the elearning app.
Tech Stack for eLearning App Development
An eLearning mobile app development and management involves a set of technologies that must work together perfectly. 
The exact tech stack will depend upon the features and platforms you choose. You can consult our team by filling out the form to know the best tech stack for your e-Learning app development.
However, it is important to know the basic types of technologies involved in the development and management of all eLearning apps.
Front-end

Back-end

Database Management

Cloud Environment and Services

Data Storage and Cache

Server

Payment System
This is just the most basic list. Never hesitate to consult and discuss the best-suited technologies as this will also impact the cost of e learning development.
In case you are going for the MVP – Minimum Viable Product initially, doesn't lose sight of the bigger picture. Make sure that it is convenient to scale at a later stage with the tech stack you choose. 
Finally, be receptive to the suggestions of the e-learning app development team too.
Understanding the factors influencing the cost of e Learning development helps you keep the elearning development costs in check. 
There's no doubt that the aim is to avoid unwanted expenses while focusing on quality. However, recognizing the challenges in e-Learning app development can help you reduce the elearning development costs further.
What are the Challenges in e-Learning app development?
eLearning app development projects can be really complicated, long, and tedious. You may know your basics and make the right decisions. Yet, you may falter due to unforeseen challenges. They may delay the project, impose extra or hidden costs, or deteriorate the app's quality.
Remember that your relationship with the outsourcing company can be at stake owing to a lack of planning. 
Confusion regarding the e-learning app development process may your reputation with the outsourcing company. Ultimately, the quality of your eLearning app will suffer. You would not want that!
There are unforeseen challenges in all projects but the whole point of experience and expertise is to minimize them. That's why we have created a list of the most common problems faced during eLearning app development. 
Recognizing these challenges beforehand will ensure that there are no overhead and unplanned expenses during the project execution of your education app development. 
Course Delivery of eLearning App – Not all learners learn the same way online!
Many e-Learning app development budgets and the final products themselves suffer from discord between learners' expectations and app design. 
Therefore, it's very important to carry out thorough research into the learners' expectations before finalizing the app's features.
Preferences of learners from different age groups and different professional backgrounds vary. While most students like to learn through videos, they are not always comfortable with live classes. 
Not all students like time-based assessments. Humanities, Arts, and Social Science classes and courses demand greater interaction and collaboration than Science or Commerce ones.
Employees in the science and technology sectors like detailed written course material since it allows more time to think. 
On the other hand, employees in design and marketing companies are more likely to prefer audio-visual lessons. Similarly, older instructors, teachers, and professors find it more difficult to operate in virtual classroom environments than younger ones.
Without a proper survey of the learners' needs, preferences, and expectations, you may end up building wrong or unnecessary features. 
An important decision that you will have to make will be regarding the significance, proportion, and utility of video courses. Video lessons are not only more difficult to create but also costlier to manage and store in your elearning app.
UI/UX – It's about making eLearning comfortable, intuitive, and enjoyable!
Bad UI/UX is the top reason for the failure of eLearning apps. Most of the online course consumers are young students and employees who have short attention spans. No matter how good the course material, UI/UX flaws will repel the learners away from the app.
Focus on the following aspects from the outset to get the best UI/UX while remaining within budget:
UI that enables concentrating for a longer duration.

Easy-to-eye fonts and colors with a calming effect.

Minimalistic design.

Ease of navigation.

A content presentation that enables scanning and skimming.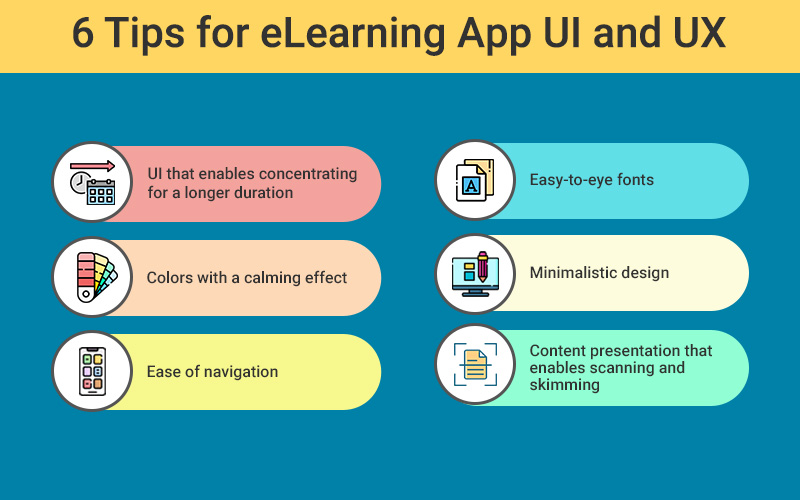 If your app is multi-platform, then responsiveness and UI/UX consistency is a must. Many learners continue their sessions on their way while traveling to work or university. A continuity of smooth learning experience ensures better user retention. 
A good UI/UX for learners keeps the expenses in check by preventing hurdles while scaling. Besides, it saves marketing costs too. It's a marketing campaign in itself!
Technology – It's got to be teacher-friendly. It can't break down during peak hours.
Many eLearning apps falter owing to their undue emphasis on course consumers. They fail to think from the angle of course providers, instructors, teachers, and professors. 
The equation is simple to understand. If the elearning app isn't smooth while uploading courses, or conducting live sessions, it won't take off.
The success of an e-Learning app development depends significantly upon the ease of imparting instruction. More teachers encourage students towards eLearning when uploading files, designing courses, adding lessons, and conducting assessments are easy. 
eLearning apps with a smooth instructor and administrator interface is also more likely to become popular amongst learners. 
Simply because the courses-to-user ratio remains in favor of the learners. They will have more options to choose from. Consequently, there will be a greater number of satisfied users.
When organizing virtual lectures and live conferences is intuitive, the eLearning app is most likely to become the preferred choice. Of crucial importance is live streaming technology. Never compromise on the live streaming quality, since it's a crucial feature in your e-learning mobile app development. 
Disruptions between live sessions break the learning flow, bring down curiosity levels, harm attention spans, and discourage online learning. To avoid this, discuss server load balancing and load distribution. 
It will also ensure good app performance in cases of disproportionately heavy traffic. Extremely popular courses, or examination weeks, the app performance will be equally smooth.
Good Communication is the key to hassle-free eLearning app development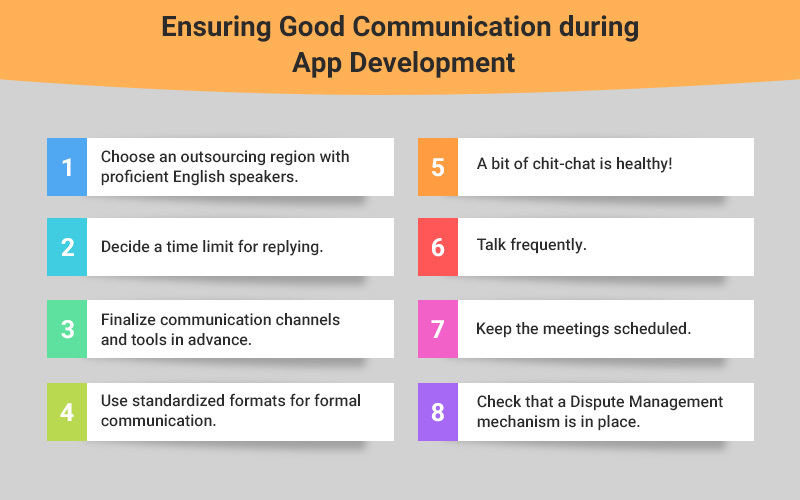 Outsourcing e-learning app development is a process. It doesn't stop at making the right choice of region and e-Learning app development company and chalking out a good plan. Discussing the project's progress often, and communicating clearly are equally important.
While outsourcing e-learning app development, you don't hand over the work, instead, you work with a team of developers. A healthy exchange of ideas guarantees the best outcomes. 
Regular meetings help you track the progress and ensure everything is going according to plan. Good communication also helps the confidence of the team of developers. 
In some scenarios, it may be important to tell them if you are unhappy with the work. Similarly, at other times, it may be necessary to assure them that they are on the right track.
At the same time, always be receptive to the suggestions and opinions of the app development team. Remember that you placed your trust in them after thorough research and for good reasons. So their suggestions and opinions should take precedence over a third party's.
Here are a few tips to help you ensure that your e-Learning app development doesn't suffer from a communication gap:
Choose an outsourcing region with proficient English speakers.

Decide upon a replying time limit.

Finalize communication channels in advance.

Keep standardized formats for formal communication.

Avoid unnecessary formal communication. A bit of chit-chat is healthy!

Talk frequently. Keep the meetings scheduled.

Ensure that a dispute management mechanism is in place.
In a nutshell…
This is one of the best times to plan for e-Learning app development. The single biggest factor that can bring down the costs is the outsourcing destination. 
India is the most preferable e-Learning app development destination in terms of cost, quality, talent, and ease of communication. 
Before commencing the app development project, it's important to be clear about the type of e Learning app you want. Each eLearning app is classifiable by its target learners, scope and technology, and delivery methods. 
Always make a list of features you want in your app and confirm the development rates and time required for them. Divide your feature list into basic and advanced if you wish to launch an MVP first. 
Understand the importance of each component of the tech stack. Make sure that the technologies you choose don't hinder upscaling later. Always finalize the feature list before deciding on the tech stack for your e-learning app development.
Be wary of the major challenges in e-Learning app development. Understand your target learners and choose course delivery features accordingly. Make extra efforts to keep the UI/UX user-friendly. Your app should be intuitive for teachers before it can become popular with learners.
Make sure that the live streaming works without interruptions. Use server load balancing and load distribution to handle the extra traffic and ensure smooth lesson delivery.
Communicate frequently and clearly with the e-Learning app development team. Don't assign them the project, instead, work with them. Be involved!  
Exchange ideas, ask questions, and remain open to suggestions. We are an award-winning e-learning app development company that has developed elearning apps for various edTech companies.