Let's talk about RPA and how is RPA transforming enterprises!
RPA is a promising development in business automation that offers a potential ROI of 30–200 percent in the first year
RPA has become a hot topic among the C-Suite. Business leaders want RPA bots powered by Artificial Intelligence to drive automation into every repetitive task that their employees do. By automating routine tasks, RPA solutions allow companies to boost productivity.

RPA is what I'd call the low-hanging fruit of Artificial Intelligence. It lets your employees work on more meaningful projects, rather than wasting time doing mundane day-to-day tasks. And for this reason, it has NOW become a hot commodity!
How is RPA transforming enterprises is what everyone in the industry wants to know today. Here in this blog, I have listed out the reasons why companies these days are looking to hire RPA developer and leverage RPA's capabilities and tools. Let's discuss these in detail.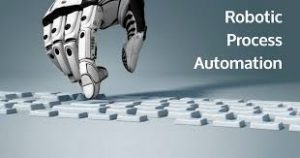 Improves Marketing Operations
Every marketing organization has to deal with a large amount of tedious work between multiple processes. By turning to Robotic Process Automation (RPA), marketing teams are seizing the opportunity to enter the "Automation-First" era.

Leveraging RPA solutions help to speed up processes lying in the marketing funnel right from generating leads to rendering an enhanced customer experience. This is why selecting RPA for enterprises is surely a profitable option to go for. 
 Also, Read– "RPA growth trends in 2020"
Pega, a vendor in the RPA space, offers marketing solutions to improve customer engagement. Each solution provided by Pega allows companies to personalize messages for each customer thus improving the customer experience.
PNC Financial Services, a bank holding company turned to Pega's marketing technology. After implementing RPA solutions offered by Pega, PNC was able to increase revenue, improve the customer experience, improve online marketing efforts and increase employee satisfaction and business efficiency. 
You can also boost productivity and improve the customer experience. All that you need to do is to hire RPA developer from a reputable company.

Reduces human error
The use of Robotic Process Automation tools helps to increase accuracy by reducing human error. As a result, RPA for enterprises proves to be very beneficial as it allows them to save money. 
Human error costs the average multinational corporation an estimated $62.4 million a year, says a whitepaper published by IDC. The paper also states that "Large enterprises are losing tens of millions of dollars due to employee misunderstanding,"
So by reducing human error, RPA not only saves money but also makes data verification faster giving your employees more time to perform value-driven work.
The more we reduce ourselves to machines in the lower things, the more force we shall set free to use in the higher; said Anna Brackett
One company, State Auto Insurance Companies, has automated 47 tasks using bots that verified data being transferred in between different applications. Thus, RPA bots saved more than 53,000 staffing hours, since the company started to work with UiPath two years ago.
Besides RPA, staff augmentation is another option to reduce costs. You can contact an offshore staff augmentation company like Resourcifi and know about the different hiring models that it offers. 
Read "The Next Big Solution for Startups-Offshore Staff  Augmentation"
Renders Quick Payment Processing
How is RPA transforming enterprises? This is what comes to your mind when you hear about the huge growth of RPA around the globe. Speeding up payment processing is one of the benefits of leveraging RPA. RPA bots render quick payment processing thus boosting the productivity of businesses.
Using RPA technology from Pega, the U.S. Department of Agriculture was able to reduce the time spent on the payment process from months to days using grant management tools. 
Now, after using Robotic Process Automation, the organization now distributes more than $600 billion in grants and agreements each year, while in the past, the payment processing proved to be a daunting task.
Because of its splendid capability to render faster payment processing, RPA has become a preferred choice among entrepreneurs. This is why, 
RPA software revenue is expected to reach $1.3 billion in 2019, says Gartner.
You can also reduce the time spent on the payment process using RPA. All that you need is to contact a reputed company such as Softomotive for availing RPA services for your business.
Saves time and increases productivity by Routing Emails 
Besides the cost and efficiency advantages, a couple of RPA's benefits are often overlooked: its ease of deployment and the speed & agility that it confers on the enterprise says PwC White Paper.
American Fidelity, an insurance-based company was able to save a lot of time by using RPA solutions offered by UiPath. Before using RPA, the employees had to go through each email manually, tag it and then reroute it to the proper channel. The task took around 45 hours to get completed.
However, by integrating RPA as a solution, the company was able to decrease its processing time from 45 hours to 3 seconds and thereby increase the productivity of their employees.
Also, the company can now focus on their core tasks instead of investing their precious time in swivel tasks like classifying customer emails. 
You can hire proficient RPA developers from Resourcifi who can offer the best RPA solutions for your business.
Helps in Retail Fraud Detection 
It is advantageous to use RPA for enterprises that involve online transactions. Needless to say, it's very difficult for companies to track millions of transactions happening online in real-time. The task is time-consuming and involves a team for getting things done. 
Using tech solutions from UiPath, a leading global investment bank was able to reduce the amount of time spent on fraud claims from 45 minutes to 20 minutes. 
All thanks to the RPA bots that render speed and improves business efficiency by eliminating human interaction completely.
It wouldn't be wrong to say that leveraging RPA helps your business to gain efficiency. So, be at an edge above your competitors in the market space by contacting a reputed company such as Uniwebb for getting the best RPA solutions to enhance the productivity of your business.
Speeds up Data Transfer
Healthcare companies these days are spending a lot of time and resources to digitize their patient records. Leveraging RPA helps companies in making the process faster.
One such example is the Family Medical Center of Hart County, which had over 30 years of records to digitize which would have taken employees thousands of hours. 
For doing the task, the medical center chose Automation Anywhere and their software robots to do the work for the employees.
You will be amazed to know, by using RPA solutions, thirty years of data were transferred over in just 24 hours and that too with zero data loss or errors. This saved a lot of human effort and time.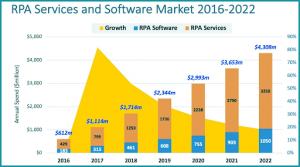 Though by saving time and money, RPA offers a number of benefits to enterprises. But like any other new technology RPA can be difficult to implement. 
A report from Deloitte showed that just 3% of companies have been able to scale RPA to more than 50 bots at a time.
There are some instances where the bots saved time but not money because implementing RPA solutions can cost a lot to a company.
Secondly, the RPA technology is limited. It's task-specific. It isn't designed to respond to the sudden changes made in data input. Since RPA is not agile, you need to use it with vigilance.
The first rule of any technology used in a business is that automation applied to an efficient operation will magnify the efficiency. The second is that automation applied to an inefficient operation will magnify the inefficiency." said, Bill Gates
Final Words on RPA
By now, you would have got an idea of how RPA can prove to be beneficial for your business. RPA allows enterprises to automate routine processes that can reduce costs in the long run and let the employees focus on more important tasks. 
However, it might turn out to be an expensive affair for thriving companies or Startups as the implementation of RPA could be expensive.
Regardless, RPA technology improves business efficiency by eliminating human errors and improving compliance. This is why we can see many businesses in the industry space adopting Robotic Process Automation. Also Jon Theuerkauf, the Chief Customer Officer at Blue Prism said,

"We'll see RPA extend its reach across mainstream industries such as medical, pharma and telecom spaces,".